OSL members lunching at Dow Rummel Village in June.
Lunch, Look, and Learn
Curious about senior community living options in the area? Join Michelle Anderson, Faith Community Nurse, for Lunch, Look, and Learn, group tours of a local facility, which include a free lunch. Here's the upcoming schedule; all meet at 11:30 a.m.:
B free Our House, August 14 (RSVP by August 12);
Prince of Peace, August 21 (RSVP by August 19);
Sunnycrest, August 28 (RSVP by August 26);
Grand Living at Lake Lorraine, September 11 (RSVP by September 9);
Trail Ridge, September 18 (RSVP by September 16);
Inn on Westport, September 25 (RSVP by September 23).
Registration is required, so contact Michelle by the dates indicated: mianderson@oslchurch.com or 336-2942, ext. 28.
Caring Friend Joanie Nelsen visits with Arlis Eiesland, who recently celebrated her 99th birthday.
A Ministry of Presence
OSL Caring Friends are volunteers who reach out monthly to members residing in care facilities in the Sioux Falls area. This ministry program was created as an opportunity to minister to those who can no longer participate in worship and fellowship opportunities, to make them feel connected and remind them they are a vital part of their church family.
Through phone calls, mail, personal visits, and prayer, Caring Friends extend the Love of Christ to those who may find themselves alone or disconnected. This outreach is an essential part of OSL's mission: Connecting Faith to Everyday Life.
You are invited to be part of the Caring Friends Ministry Team, and serve as a living reminder of God's presence and love! Plan now to attend a Caring Friends meeting on Thursday, September 19, at 1:00 p.m., in the Conference Room. Can't make it? Contact Pr. Tim Lemme (336-2942, ext. 19, or tlemme@oslchurch.com) or Deb Harlan (336-2942, ext. 48, or dharlan@oslchurch.com.)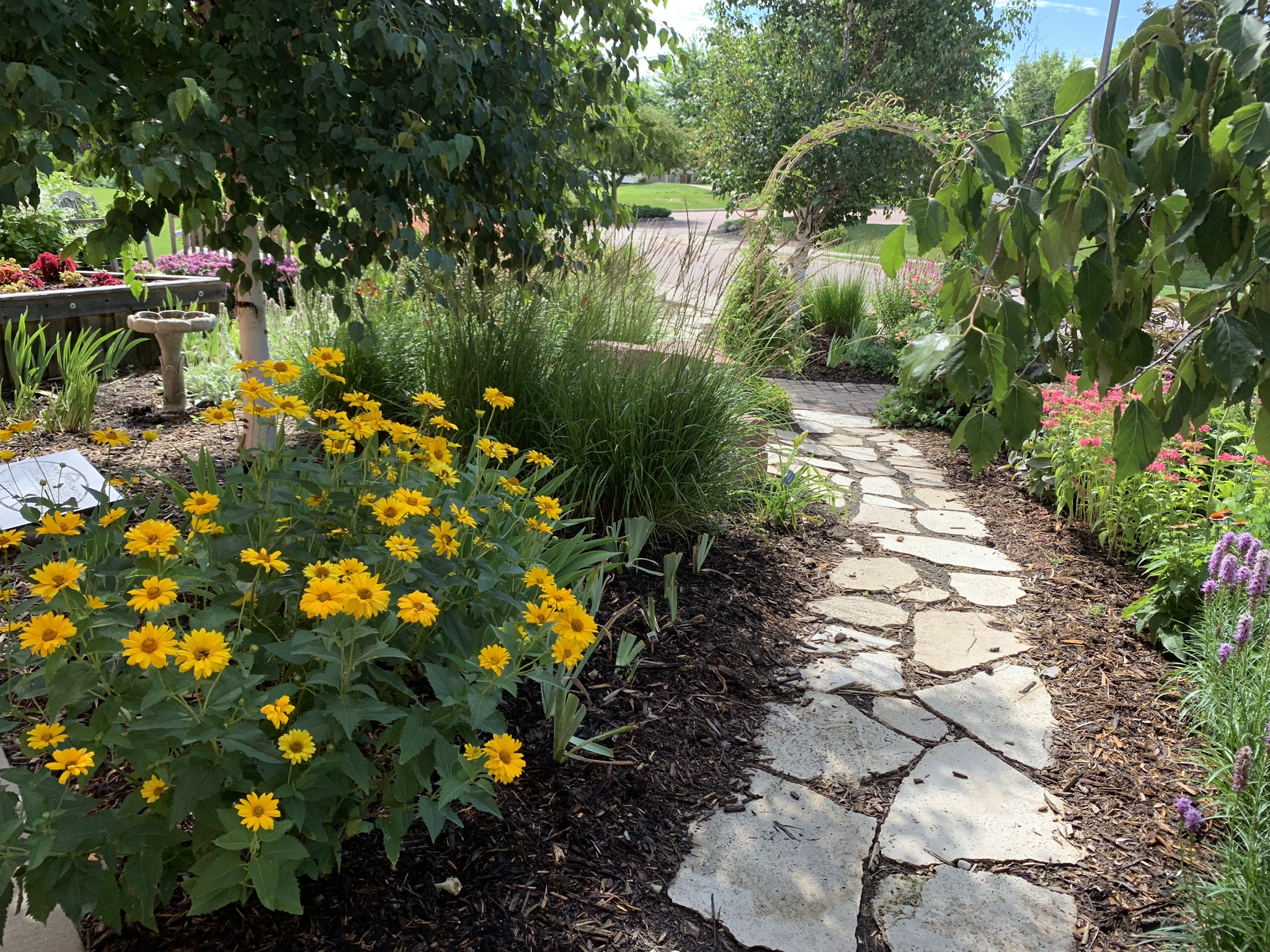 A Morning in the Garden
OSL members were treated to a lovely summer morning's garden party in the Healing Garden on July 21. Thanks to the tireless efforts of Healing Garden volunteers, plus lots of rain and sunshine, everything was in full bloom.
If you haven't enjoyed the tranquility of the Healing Garden recently, be sure to visit soon! Even just a few minutes among God's colorful plants creations are sure to refresh and renew you.
Would you like to help tend the Healing Garden? Contact Deb Harlan, 336-2942, ext. 48, or dharlan@oslchurch.com.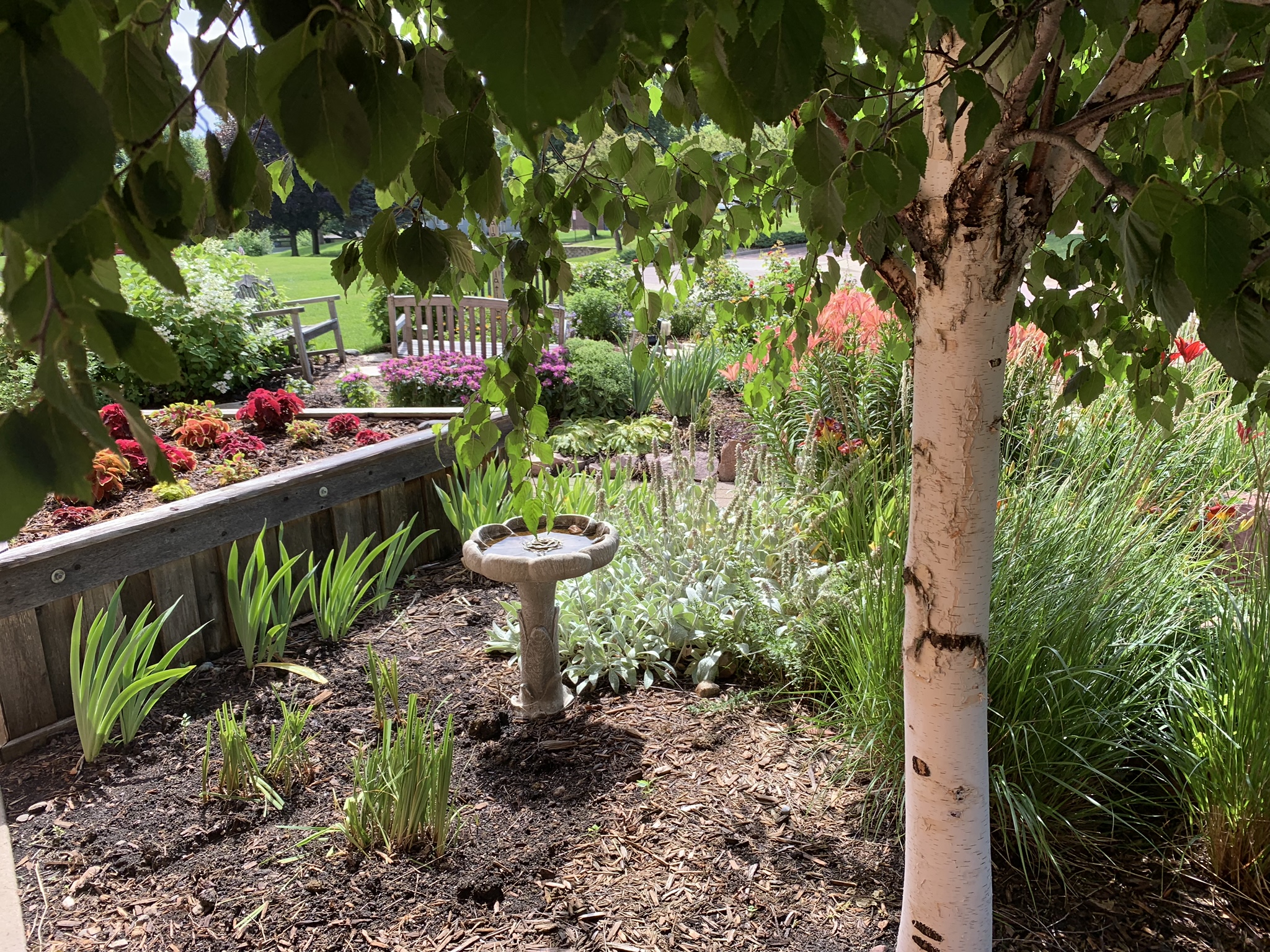 OSL Woodshop Ministry: Reaching beyond Our Walls
The other day I decided to explore a new sawmill that just opened down by Lennox. As most of you know, I'm a woodworker, so I was out looking for some rough-cut lumber to build a table for my wife.
While there, I introduced myself to the owner and enjoyed a nice conversation with him while looking over the collection of wood products he had to offer. During the course of our conversation, I shared with him that we had a woodshop at the church where I serve as a pastor. His response was immediate: "Oh, is that the church by Augustana College?" (I still have trouble remembering "University" myself!)
The owner shared with me that he had heard about the OSL woodshop and was impressed that we had such a ministry to offer to our members. I told him what our woodshop ministry was all about: a "hands-on" ministry that serves the needs of our congregation, our community, and the larger church. It was wonderful to hear that day how this congregation's ministry is known by the people outside our walls.
Oftentimes we take for granted just how far-reaching our ministry is. People we haven't even met sometimes know who we are, and some of the ways in which our ministry touches the lives of people around us. We are a blessed congregation indeed, with a variety of gifts and ministries that make a difference.
Thank you, all of you, for being part of the ministry we share together here at OSL!
—Pr. Tim Lemme
Health Ministries
Our Savior's has a number of ongoing health ministries that meet on a weekly or monthly basis. Feel free to join any of the following sessions. For more information, contact Michelle Anderson, Faith Community Nurse, 336-2942, ext. 48, or mianderson@oslchurch.com.
Footcare Clinic
Cost is $25 per person. Wednesday,
August 7, 9:00 a.m. to 3:00 p.m. Call the Church Office, 336-2942, to schedule your appointment.
Hope for Living with
Illness or Cancer
Every Tuesday at 2:00 p.m. in Caring Ministries. People and their families who have or are experiencing the challenge of cancer are welcome. If you cannot attend, but would like to be on our prayer and devotional mailing list, contact Michelle Anderson, Faith Community Nurse, 336-2942, ext. 48, or mianderson@oslchurch.com.
Knitting/Crocheting Ministry
Learn how to knit or crochet prayer shawls (to be given to people to remind them of God's presence and love in their lives) and mittens and scarves (for missions).
Wednesdays,Wednesdays, August 14 and 28, 9:30 a.m., Sonshine Room
Good Grief
Every Thursday at 10:00 a.m. in Room 103. Offers support to anyone dealing with loss and crisis in their lives.
Memory Care Support Group
Saturdays, 10:00 to 11:00 a.m., Conference Room. For caregivers of those with Alzheimer's and dementia, the group is a place for caregivers to share and to receive understanding and empathy. Contact Michelle Anderson, Faith Community Nurse, 336-2942, ext. 48, or mianderson@oslchurch.com.
Why Mah-Jongg?
Mah-Jongg may help improve a person's memory skills and sharpen the mind. It can help people to make faster decisions and better observations, and also requires players to think on different spectra. And it's an excellent social activity! Join OSL's Mah-Jongg players on Wednesday at 1:00 p.m., in The Gathering Place! All skill levels are welcome.
Men's Bible Breakfast
OSL's Men's Bible Breakfast and Lutheran Men in Mission group meets on the first and third Saturday of each month at 8:30 a.m. in the Conference Room. A continental breakfast is provided by members at each gathering. Men of all ages are invited to attend this one-hour Bible study when it meets on August 3 and August 17. For more details, contact Pr. Tim Lemme, tlemme@oslchurch.com or 336-2942, ext. 19.