Many thanks to everyone who contributed time, energy, money, and food to last weekend's Midnight Madness! Between 150 and 175 Augustana students stopped by to relax, study, and eat—tacos, pizzas, vegetables, ice cream, and "five or six gallons" of cold brew coffee! And almost nothing was left over! Thank you for your support of OSL's Augie neighbors as they prepared for finals week.
Join a group of volunteers coming together on Tuesday, May 23, to help clean up the OSL grounds. The group will meet at the south entrance at 2:00 p.m., and work for a couple hours. Bring work gloves, and if you wish to bring along your favorite rake, broom, pruning shears, shovel, etc., that would help! No need to sign up, just bring yourself…and a friend: many hands make light work, they say! Contact Barb Haugan, 605-336-2942, with any questions.
Bee a Reader, the OSL Library's reading program for kids and adults, runs through July 12. Read a book, get a ticket, and be entered in prize drawings at OSL's Summer Blasts (June 14 and July 12). Plus, add a bee sticker to the hive for every book you read! Visit the Library for more details…and get busy reading!
OSL's Minnesota Twins Outing will be on July 26! Come along on a day trip to see the Twins take on the Seattle Mariners at Target Field. The motor coach will leave OSL at 6:30 a.m. sharp. Light snacks and drinks will be provided, and there will be a restroom break along the way. The cost is $110 per person, which covers transportation and a seat in the shade behind home plate. Supper is not included in the price. Sign up at the Welcome Center or in the Church Office, 605-336-2972. Seating is limited!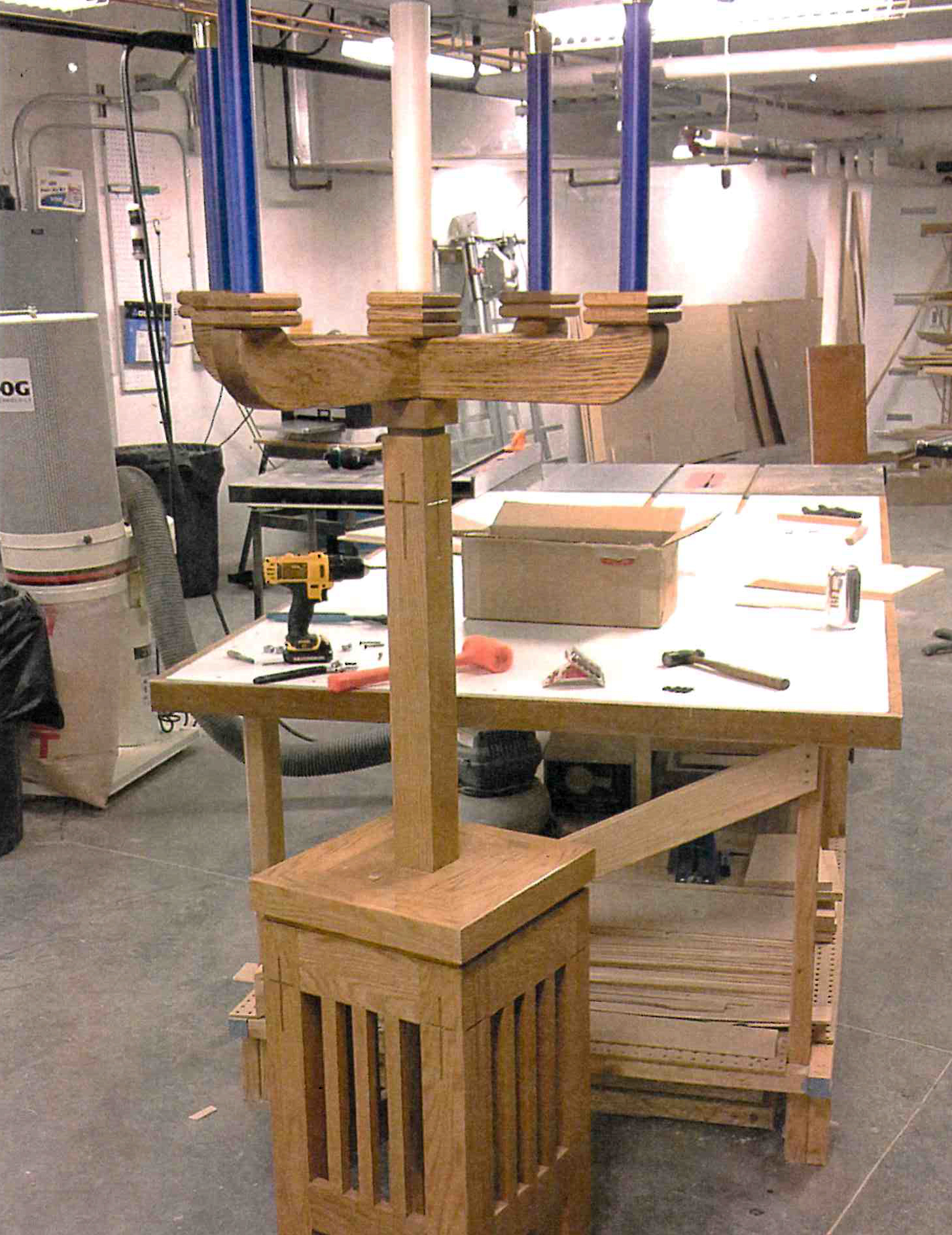 The
Woodshop Ministry
team meets each week on Wednesdays, from 6:00 to 8:00 p.m., and on Saturdays from 8:00 a.m. to noon. All are welcome, whether you are a seasoned woodworker or a beginning craftsperson, to join the team each week to work on projects for the church, the community, and ourselves. And the group never forgets to take a break for coffee and treats each morning, too! For more information contact Pr. Tim Lemme, 605-336-2942, ext. 48, or tlemme@oslchurch.com.
Summer is here, which means the summer worship schedule is coming right up—May 27-28, in fact! The Saturday Festive service will remain at 5:00 p.m.; on Sunday, Celebrate worship will be held at 8:45 and 10:30 a.m., and Festive worship at 10:15 a.m. The first outdoor Celebrate service will be on June 11, at 8:45, on the east lawn.
Digital bulletins are available for you to use with your mobile device, whether you worship from home or at OSL. Here are bulletins for
• Saturday evening Festive worship
• Sunday morning Festive worship
• Sunday 8:45 Celebrate worship
• Sunday 11:00 Celebrate worship
View (or print) weekly worship materials at oslchurch.com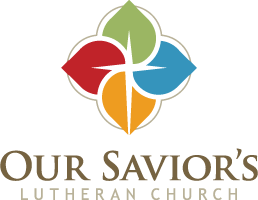 Join Our Amazing Team! Our Savior's is currently accepting applications for the position of Business Administrator. You may find the position description here. Qualified candidates interested in joining our team may send a letter of application, résumé, and completed application (found here) to Pastor Randy Gehring, rgehring@oslchurch.com.
In addition, OSL is looking for a full-time custodian, responsible for a wide variety of custodial duties that include the general operation of the physical plant and upkeep of the church building and its premises. Find details here.
As you can tell by the announcement above, Our Savior's longtime Business Administrator (and other roles before that!) Barb Haugan is retiring at the end of June. There will be a congregational farewell for Barb on June 25, between worship services. Come thank Barb for her diligent commitment to the ministry of OSL, and wish her well in this new and exciting chapter in her life!
OSL's Summer Blasts will return, with the first on Wednesday, June 14, from 5:00 to 7:00 p.m. As usual, the June Blast will feature OSL's annual Car & Motorcycle Show—as well as live music, food, fun for all ages, outdoor worship (at 6:30), and God Talk with Peter and Paul! Everyone is invited to bring their special car or motorcycle to show off. Just contact Pr. Tim Lemme, tlemme@oslchurch.com or 605-336-2942, to reserve your spot. Don't miss the fun!
Note the date change!
Pr. Randy is still looking forward to an evening of great, informal conversation about important matters at the next
Theology Tapped
, but because of scheduling conflicts this month's meet-up will be held on Thursday, June 1, at Monk's Ale House, 420 E. 8th St., from 7:00 to 8:30 p.m.
OSL Night at the Canaries
is scheduled for June 16; game time is 6:35 p.m. Tickets are $10 each, and are available at the Welcome Center on Sunday or in the Church Office during the week. Fireworks are scheduled post-game.
Have you experienced a loss? Are you going through a time of grief? Could you use a little extra support? Join Pr. Tim Lemme and members of OSL's Good Grief Group each Thursday, from 10:00 to 11:00 a.m., in the Friendship Room, for conversation, reflective study, and compassionate peer support. What makes this group so special is that all have experienced a loss and have learned that sometimes the best support comes from the love of those who have been there. To learn more, contact Pr. Tim Lemme (605-336-2942, ext. 19, or tlemme@oslchurch.com) or Ben Weins, Spiritual Care Coordinator (605-336-2942, ext. 28, or bweins@oslchurch.com) .
All are welcome to join
OSL's Knitting Group
at their new meeting time: the first and third Tuesday of the month, from 9:30 to 11:00 a.m., in the Oasis Room. The knitters craft prayer and baptismal shawls for use in the ministries of Our Savior's.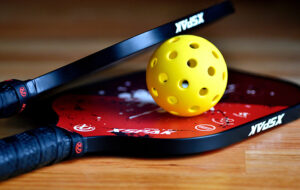 The OSL Gym is open for pickleball from 12:00 to 1:00 p.m. on Thursdays and Fridays. Participants are asked to contribute $2 per visit for heat, lights, and upkeep of the floor.
Every week, Our Savior's Communications produces a short Information Video of upcoming events, activities, and opportunities. It's shown at the Welcome Center and on monitors in the Sanctuary and Celebrate Center before worship services. And it's posted to the OSL website as well, so if you haven't been by for a while, or you'd just like a closer look, find the videos here!
Keep an eye on the OSL calendar, at oslchurch.com/calendar, as events and activities are added! The website calendar is continuously updated, so visit it frequently.
If you're worshiping from home, you can fully participate in the OSL community's worship life. Here's how:
• View (or print) weekly worship materials at oslchurch.com.
• Watch worship services on TV: Celebrate: 9:00 a.m., FOX-TV (channel 46.2); Festive: 1:00 p.m., KSCB (cable channel 30; channel 53).
• Catch live-stream worship services at facebook.com/oslchurchsf: Celebrate, 8:45 a.m.; Festive, 10:15 a.m.
• Watch recorded services at oslchurch.com, uploaded on Monday.


• Praise God, from whom all blessings flow!
Join your OSL friends as a volunteer at the
Food to You distribution
, on May 25 at St. John American Lutheran Church. See the sign-up sheet at the Welcome Center for details. St. John American Lutheran Church is at 13th Street and Western Avenue.
You can help prepare for the upcoming South Dakota Synod Assembly (see below) by helping with one of OSL's assembly cleaning days. The dates for indoor cleaning are May 29, from 6:00 to 8:00 p.m., and May 31, from 6:00 to 8:00 p.m. Cleaning supplies will be provided. No sign-up; just come as you're able.
Our Savior's will be hosting the 2023 South Dakota Synod Assembly, June 2 and 3. Volunteers may help by serving as greeters, ushers, communion servers, lunch and dinner helpers (for Friday), or to assist with sprucing up before the assembly. Look for a sign-up sheet at the Welcome Center.
What better way to show God's love for everyone than to share a gift of caring and warmth? This is what happens each second and fourth Tuesday of the month in the OSL Peace by Piece Quilting area, from 9:00 a.m. to noon. Quilts of various sizes are handmade and sent to local organizations that care for the homeless and underprivileged native communities in South Dakota, and around the world to places in need. If you would like to be a part of this ministry, stop by and we will find a way for you to help! Sewing and quilting skills of all levels are welcome. Come join in the laughter and fellowship in this mission work of compassion and caring for others.
One of the greatest gifts we can give to anyone is the gift of our time. A listening ear, a phone call, a quick note can be a source of comfort and a bright spot in someone's day. OSL's Caring Friends are volunteers who reach out monthly to OSL members residing in care facilities in the Sioux Falls area. This ministry program was created as an opportunity to minister to those who can no longer participate in worship and fellowship opportunities at OSL, to make them feel connected, and a vital part of their church family. Through phone calls, mail, visits, and prayer, Caring Friends reach out with the Love of Christ to those who often find themselves alone or disconnected. This outreach is an essential part of Our Savior's mission to connect faith to everyday life. If you would like to participate in this ministry, contact Pr. Tim Lemme (605-336-2942, ext. 19, or tlemme@oslchurch.com) or Ben Weins, Spiritual Care Coordinator (605-336-2942, ext. 28, or bweins@oslchurch.com).
Do you know someone who has suffered a loss or is going through a difficult time? Here's a great way you can help: tell them about Stephen Ministry! Stephen Ministers have received special training to provide confidential, one-to-one, Christian care to hurting people. They meet weekly with their care partners to listen, encourage, and provide emotional and spiritual support. The caring relationship lasts as long as the person needs care. It's free, and it's a powerful way you can help a hurting friend. To learn more, contact Pr. Tim Lemme (605-336-2942, ext. 19, or tlemme@oslchurch.com) or Ben Weins, Spiritual Care Coordinator (605-336-2942, ext. 28, or bweins@oslchurch.com).
OSL supports the Food to You Mobile Food Pantry by donating various food items to help local families in need, and helping with food distributions. The item for June is tuna and tuna helper; for July, macaroni and cheese. Always appreciated are toothpaste, shampoo, and deodorant for Hygiene Packs. Place your donations in the marked bins near the south entrance, by the Library.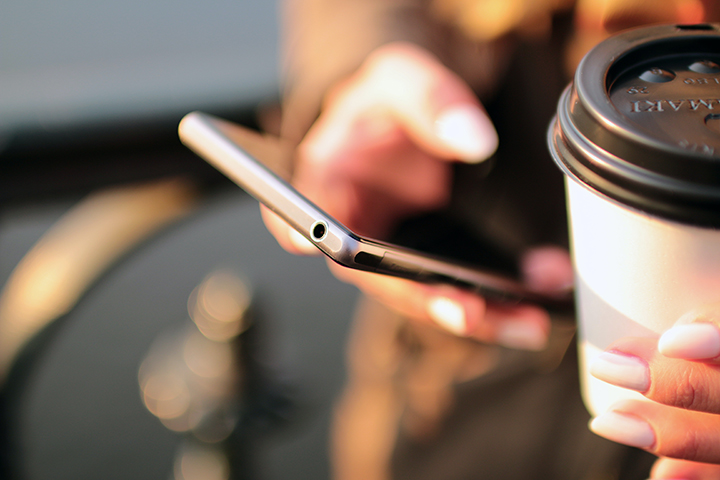 Have you tried OSL's text giving option? It's a quick, convenient way to help support OSL's mission! Just text sharing to 73256 and follow the short instructions to make a gift to Our Savior's. Thank you for your continued support!