Theology on Tap
Come and join Pr. Randy at Monk's House of Ale Repute. 420 E. 8th St., for conversation, reflection, prayer, and Christian community on Thursday, April 20, from 8:00 to 9:30 p.m.
OSL Chili Cook-Off a Success
The first OSL Chili Cook-Off was held on
February 26, in The Gathering Place. OSL cooks whipped up their best chili recipes, all of which were eligible for People's Choice voting, and some entered their efforts for judging by secret tasters. In the end, judges awarded third place to Lloyd Olson's "A Little Kick"; second place to
Molly Lems's "The Best Chili"; and first place to People's Choice winner Nancy Wehrkamp's "Creamy White Chili."
The Chili Cook-Off raised $700 for OSL's Mission: Possible debt-reduction campaign.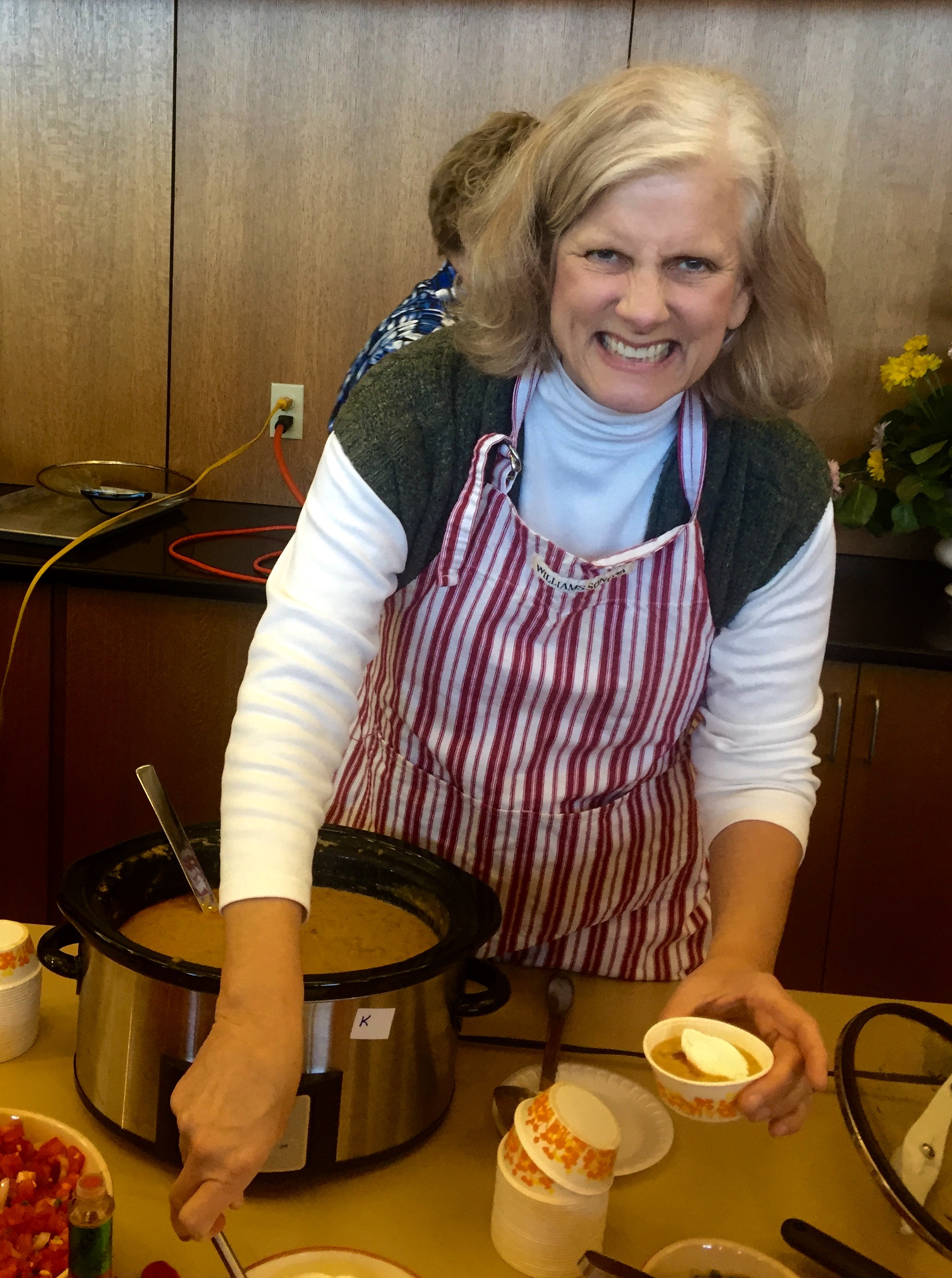 Sweet Life! Dessert Comedy Theatre Comes to OSL
OSL is bringing Sweet Life! Dessert Comedy Theatre to you on Friday, April 7. You'll enjoy an evening of family-friendly comedy and music, as well as scrumptious desserts. It's a sweet treat your friends, neighbors, co-workers, and family will love!
Nationally known comedian Scott Davis will serve up his special brand of humor, which is sure to leave you laughing. Davis has performed on television and stage with Mark Lowry, Dennis Swanberg, and Mark Hall of Casting Crowns. His comedy has delighted hundreds of thousands across the U.S. and abroad. Best of all, he brings a message of Christian outreach and evangelism.
Tickets are on sale now: visit itickets.com/events/372464 or call 1-800-965-9324. Contact the Church Office, 336-2942, if you need assistance.
A Note of Thanks
Dear Our Savior's Lutheran Church:
Thank you for sharing your time to pack meals with Lunch Is Served, Inc. on Wednesday, March 8. Because of you, 200 workers received a lunch! Thank you for your monetary donations and Thrivent grant money!
In 2016, our volunteers made 27,520 meals for the working poor in our community and we expect this number to grow in 2017.
We believe that receiving a lunch also shows these workers that their community supports them as they strive to provide for themselves and their families.
Lunch Is Served could not provide these meals without the volunteers who generously give of their time and we are grateful for your effort.
Lynn Culey
Executive Director
More Notes of Thanks
From the SIGH Clinic
Editor's note: At Christmastime, OSL participates in the SIGH Clinic, in which nurses provide free footcare to the underserved and homeless in the community, as well as brand-new socks.
Thank you so much for the donated socks for the SIGH Clinic from Our Savior's Lutheran Church. The 58 pairs of socks were greatly needed.
Thanks,
Gloria Weber, R.N.
From Project CAR
A special thank you goes to the volunteer from Our Savior's Lutheran Church who contributes time and talents to Project CAR.
You helped provide transportation for people to participate in worship services and church activities, volunteer throughout the city, and serve as Senior Companions. You transported individuals with special needs to their work sites and provided over 1,500 rides for health appointments. You enhanced the quality of life for all you served.
In 2016, volunteers traveled about 70,000 miles, provided about 10,000 rides and donated about 7,000 hours.
Please join Project CAR in thanking Bob Caselli for volunteering.
Big News!
Editor's note: OSL sponsors Elisabeth Johnson, an ELCA pastor who serves as a seminary professor at the Lutheran Institute of Theology in Meiganga, Cameroon. The following is excerpted from Elisabeth's blog, camerooniangrace.
Once again, I am long overdue for an update and will need to catch up on several months of events. But first, the most important event in my personal life: on January 30, I got married! My husband's name is Eric Toudze, he is Cameroonian, and we have known each other for over four years. We first met in Ngaoundéré, where I studied French my first year in Cameroon, but Eric lives and works in Yaoundé (the capital of Cameroon, about 680 km from Meiganga, where I live now), so we don't get to see each other very often. We keep hoping that will change, but at Christmastime we made the decision to go ahead and get married, even if we can't live in the same place right now.
A civil marriage ceremony is required to legalize a marriage in Cameroon, so we did that in January and are planning a church blessing ceremony in July. We had the civil service in a city south of Yaoundé called Ebolowa, where Eric's cousin is an attorney and was able to help us with all the legal paperwork. The church blessing will be in Ngaoundéré, where Eric's parents and many of his relatives live. Here are a couple photos from the civil ceremony.
I spent Christmas in Ngaoundéré with Eric and his family. Leading up to Christmas, there were many Christmas programs and concerts here in Meiganga, both at the seminary and at the local congregation. For the past couple years, I have been working as a volunteer advisor for the Sunday school teachers of the French-speaking congregation. We have some very committed young adults who teach the Sunday school and work with the children in preparing their Christmas program. They do an amazing job!
Congratulations to Elisabeth and Eric! You may read Elisabeth's blog at camerooniangrace.wordpress.com.
<p style="text-align: center"><span style="color: #3594bc; font-family: Arial,Helvetica,sans-serif; text-align: center; font-size: 16px; margin-bottom: 0px; margin-top: 0px;"><b>Be Notified When <i>The Intercom </i>Is Updated!</b></span></p><br><!-- BEGIN: Constant Contact Email List Form Button --><div align="center"><a href="http://visitor.r20.constantcontact.com/d.jsp?llr=cgxs7srab&p=oi&m=1118399192258&sit=5itf56ajb&f=367e76f6-0208-4b67-b32c-a3d9f409786c" class="button" style="background-color: rgb(0, 0, 144); border: 1px solid rgb(91, 91, 91); color: rgb(255, 255, 255); display: inline-block; padding: 8px 10px; text-shadow: none; border-radius: 10px;">Sign Up for The Intercom</a><!-- BEGIN: Email Marketing you can trust --><div id="ctct_button_footer" style="font-family:Arial,Helvetica,sans-serif;font-size:10px;color:#999999;margin-top: 10px;" align="center">For Email Marketing you can trust.</div></div>