Challenge Met!
Have you ever wondered what 1,200 rolls of toilet paper would look like? Of course not—that would be ridiculous! Nevertheless, here's a picture of what more than 1,200 rolls of toilet paper look like, thanks to the exceptional generosity of you and your OSL friends.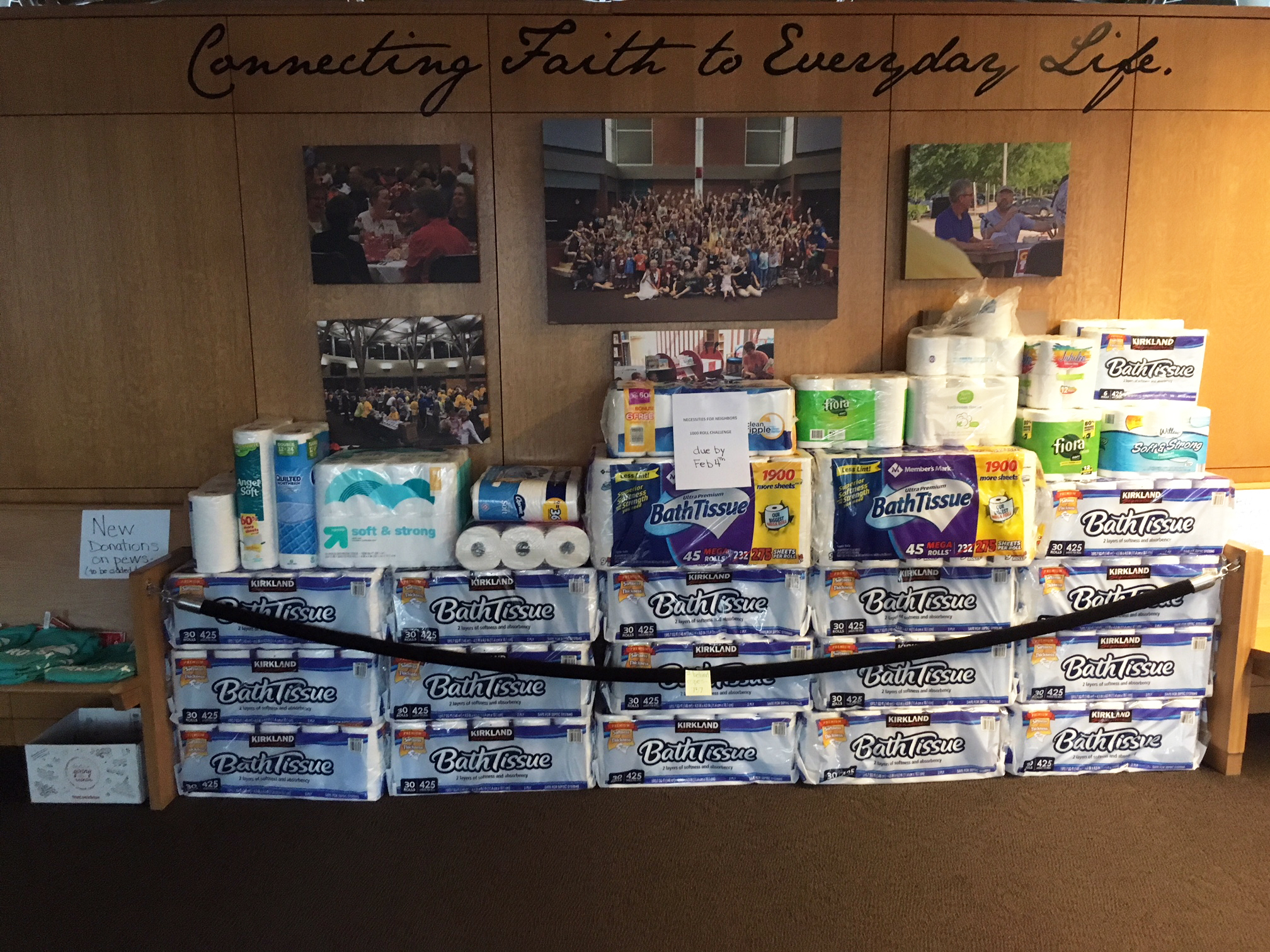 Why, you ask? Because OSL was challenged to donate 1,000 rolls of toilet paper for February's Necessities for Neighbors distribution, Peace Lutheran's local outreach program designed to help neighbors with certain basic necessities that they cannot buy with SNAP (formerly Food Stamps). On the first Sunday of each month, the program distributes toilet paper, laundry detergent, femi¬nine hygiene products, and diapers to over 300 local families.
OSL members often help with the monthly Necessities for Neighbors distribution. To find out how you can help, contact Pr. Justin Kosec,
jkosec@oslchurch.com
or 336-2942, ext. 44. And thank you for your support of neighbors across the community!
Connecting Faith and Life
This adult discussion and study group, facili¬tated by Pr. Randy, is studying the book Loving Jesus by Mark Allan Powell All are welcome to join in this exploration of how simple religious practices can move us toward a closer walk with Jesus, on Wednesdays at 6:00 p.m. in the con-ference room. A $15 donation will help cover the cost of the book, which is available in the Church Office or at the Information Center. All are welcome.
A LifeGroup Moment: Friendship
Pr. Randy received email following a LifeGroup observation activity last month. The sender reported that one of her group members opened his Bible, Manual: The Bible for Men (Zondervan, 2009), "so it didn't appear we were staring at the passersby," and happened to land in Matthew 9, where the Pharisees criticize Jesus for eating with tax collec¬tors and sinners (Matthew 9:9–13).

That passage from Matthew is accompanied by a sidebar observation in Manual: The Bible for Men:
at:issue: friendship
expanding your circle
Take a good look at your circle of friends and acquaintances—the people with whom you spend the majority of your time. How diverse is the group? Are most of them roughly the same age as you? Same social class? Do most of them share your spiritual beliefs?
lt is certainly not wrong to gravitate toward people who are similar to you. However, recognize that Jesus modeled a more adventurous style of relationship building. He made a point of crossing social, economic and racial boundaries every chance he got. Why not make it a point this week try to follow his example?
Food for thought!
Don't Forget! Chili Cook-Off and Cupcake Walk March 4
Everyone had so much fun last year at the first OSL Chili Cook-Off that it's coming around again: Sunday, March 4, in The Gathering Place, immediately after the 11:00 a.m. worship services.

Whip up your best recipe and enter it for judging, or just bring in a pot of your finest to share for lunch (chicken noodle soup will be available, too). Tasting for judging will be from 12:00 to 1:00 p.m. Cupcake donations will be appreciated!

Contact Loretta Nelson, lnelson@oslchurch.com or 336-2942, ext. 14. The Cook-Off and Cupcake Walk is a fundraiser for Mission: Possible Phase II.
Theology Tapped
If you're looking for engaging conversation on matters of faith and life in a fun, informal setting, join Pr. Randy for Theology Tapped on Thursday, March 22, from 8:00 to 9:30 p.m., at Monk's House of Ale Repute, 420 E. 8th St.
Come join OSL women and guests in The Gathering Place for the Spring Women's Retreat, April 14, from 8:30 to 11:00 a.m.! There will be a light brunch, devotions, music, door prizes, and a wonderful speaker, the charismatic and entertaining Trish Syverson, whose topic will be
"A Laugh a Day Keeps…"
Register now for a fun and inspirational morning! Visit
oslchurch.com/events
and follow the links to register online, or contact the Church Office, 336-2942.