A Treasure of Darkness
Once again, Our Savior's member Gary Gaede has created an evocative work of art to share with the congregation.

Gary's illustration for "Treasures of Darkness," this year's Advent theme, represents a number of emotions, hopes, and expectations. The dove is black, indicating darkness. The gold behind the dove, Gary says, "suggests prayers in the fading light." Blue evokes the darkening winter sky. "And the cross shape suggests the coming of Jesus." Thank you, Gary, for sharing your gift with the OSL community.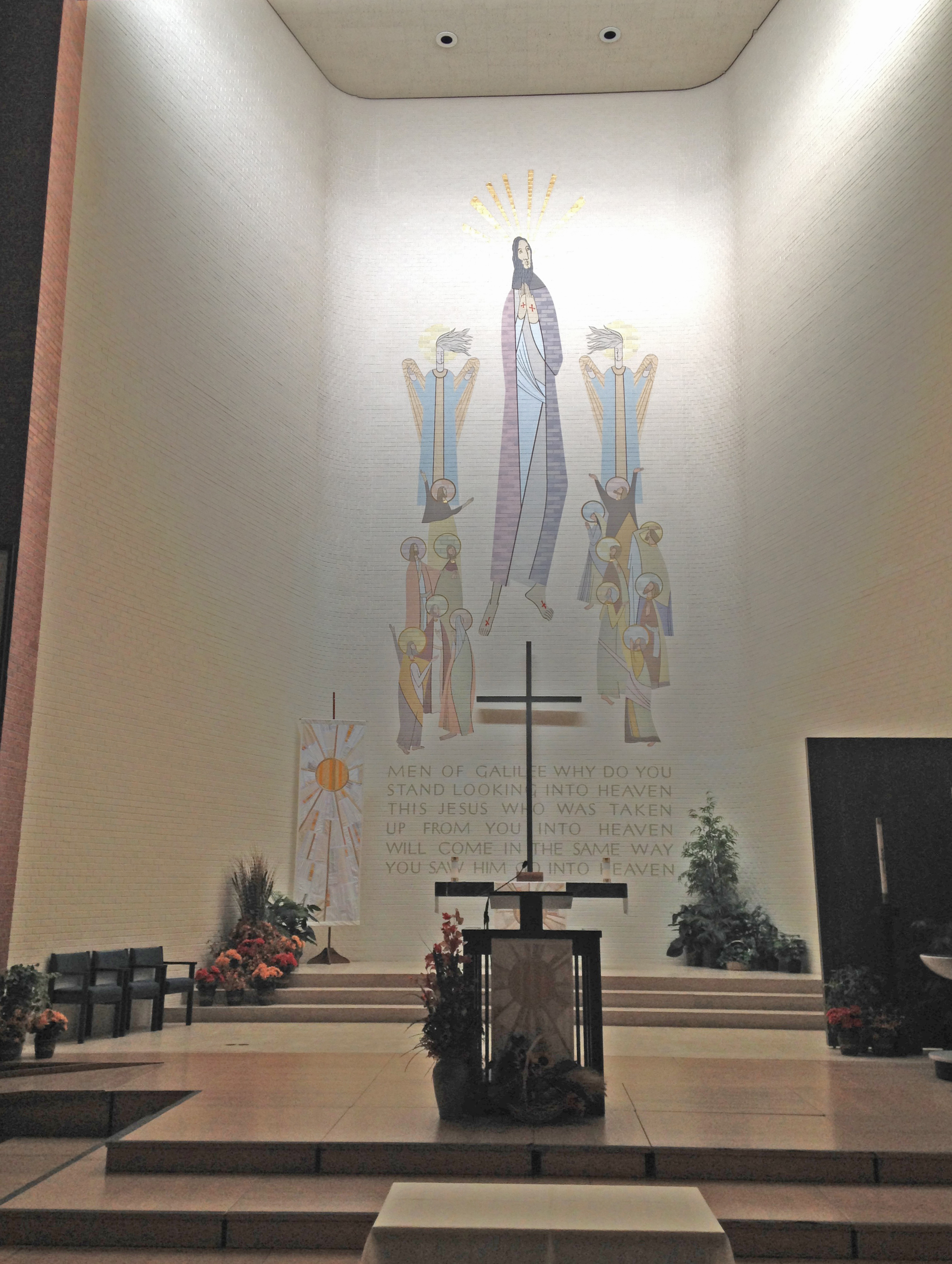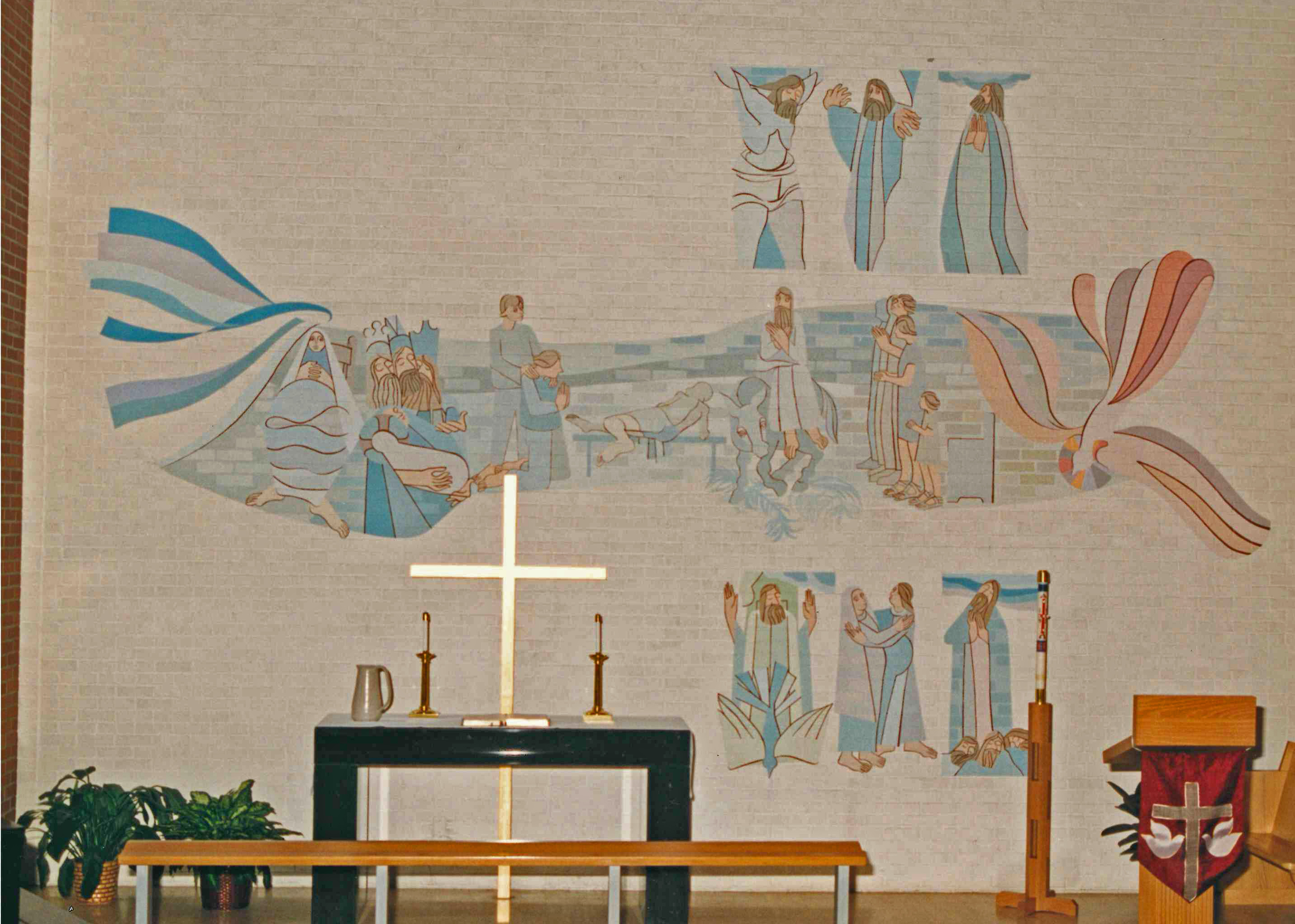 An Artist's Life Revealed
"Robert J. Aldern: An Artist's Life Revealed" is on exhibit at Piper, 1825 S. Minnesota Ave., through Dec. 29. The exhibit features rare, never-before-exhibited liturgical designs, landscape drawings and oil paintings, and watercolor and graphite figure studies by Robert Aldern, whose liturgical artworks enhance each of the three worship spaces at OSL. Additional works are also included, many previously only available as reproductions. A portion of the proceeds will go to the Robert Aldern Art Scholarship at Augustana University. For more information, contact Piper, 339-0346.

Bob Aldern's work is well-known to the OSL community: His first major piece of liturgical art was the Ascension Mural on the Chancel wall of the Sanctuary. The mural, oil on brick, was designed and painted by Aldern, assisted by R. P. Child; the lettering is by Herm Griller. The mural wall rises 45 feet from floor to the ceiling. The Christ figure is 22 feet high; the gold-leaf halo is 81 inches in diameter. The mural depicts Jesus' physical ascension into heaven. The hair of the two "spiritual beings" to Jesus' right and left is swept by the wind of the Holy Spirit into the Christ figure.

Aldern's work also enhances the worship experience in the chapel. The Chapel Mural, imagined as a teaching tool for Sunday School students as well as everyone who worships here, depicts the seasons of the church year: Annunciation, Nativity, Epiphany, Lent, Crucifixion, Resurrection, Ascension, Trinity, Visitation, Transfiguration, and Pentecost. It was completed in 1974.

The artist's last major commission was the triptych "God of Grace and God of Glory," which previously was displayed in the south entrance but which now graces the Celebrate Center. Designed and executed by Aldern and Noreen Aldern Groethe, the triptych—stain on red oak flooring—was commissioned for the 60th anniversary of Our Savior's and given in memory of Brooke Anderson Joniak by her parents, Lynn and Diane Anderson. The center panel depicts Christ blessing and bestowing God's grace upon the worshipers, and the choir in the background singing to the glory of God. The left panel depicts the sacraments, Baptism and Holy Communion, while the right panel depicts Christ healing the afflicted.

Bob Aldern died in 2011, leaving a legacy of beautiful works that live on to glorify God.
Christmas Blessings from the OSL Staff!
Thank you for your partnership in the mission we share at Our Savior's! May your Christmas be joyous, safe, and restful!

Pictured above: 1. Stella Curry; 2. Pr. Sami Johnson; 3. Debbie Theis; 4. Nicole Mindt; 5. Melissa Nesdahl; 6. Duresa Kabato; 7. Loretta Nelson; 8. Barb Haugan; 9. Deb Harlan; 10. Deb Merxbauer; 11. Pr. Randy Gehring; 12. Matthew Tylutki; 13. John Schomberg; 14. Michelle Anderson; 15. Gene LeVasseur; 16. Deanna Wehrspann; 17. Pr. Justin Kosec; 18. Bill Reynolds; 19. Denny Gale; 20. Pr. Tim Lemme. Missing that day but still pictured (inset): Lavada Woods, Lloyd Olson.
Share the GIFT!
Come share in OSL's second Christmas Eve GIFT (Generations in Faith Together) worship service, on Monday December 24, at 2:00 P.M., beginning in The Gathering Place

This worship service will celebrate the birth of the baby Jesus through interactive storytelling, song, caring conversation, creative expression, and a child-safe Silent Night ritual. All who attend can expect to encounter the Christmas story in a new and unforgettable way.
Advent Music Series
Here's an exciting new opportunity to serve in Festive worship during the Advent season: The Advent Music Series.

If you are an instrumentalist or vocalist, come share your talents as preludes, postludes, and special music in Festive worship on Saturdays and Sundays throughout December. You are welcome to share one song or many, or you and a friend could sing/play a duet. The purpose is to create more diversity in the ways we hear about the coming of Jesus this Advent season.

If you are interested in serving, but don't know what music to share, Matthew will be happy to help you find selections from the OSL Music Library. All ages, instruments, and voices are welcome! Sign up at the Information Center or online at goo.gl/forms/FbN1wwIrTjLUOhmQ2. Questions? Contact Matthew Tylutki (mtylutki@oslchurch.com).
Theology Tapped
Theology Tapped will take a break in December, but will be back next month with engaging conversation on matters of faith and life in a fun, informal setting. Join Pr. Randy for Theology Tapped on Thursday, January 24, at 8:00 p.m., at Monk's House of Ale Repute, 420 E. 8th St.
A New Chapter for Old Friends
Longtime OSL members Ray and Joyce Engh recently moved to Minneapolis to be closer to family. Ray served as pastor at Our Savior's from 1965 to 1974, and he and Joyce have been members here for nearly 50 years; at right they're pictured at a little going-away gathering with their friends from the Hope for Living with Illness or Cancer group. (Ray and Joyce are second and third from the left, respectively.)

As they begin this new chapter of their lives, you are invited to shower them with a little OSL love by sending them a greeting at their new address: 3700 Cedar Lake Ave., Apt. W 210, Minneapolis, MN 55416.
OSL Food Ministry
OSL Food Ministry serves breakfast on Sundays in The Gathering Place, starting at 9:30, and Wednesday dinner starting at 5:00. All are welcome! Thank you for contributing to the freewill offering to help cover expenses.

December Menus (subject to change)
Sunday Breakfasts
2 – Scrambled eggs with cheese, bacon, roasted potatoes, orange juice, yogurt, and donut holes
9 – Scrambled eggs, biscuits and gravy, orange juice, and donut holes
16 – Eggs, bacon, roasted potatoes, orange juice, yogurt, and donut holes
23 – Egg bake, orange juice, sweet breads, yogurt, and donut holes
30 – Christmas vacation – no Breakfast


Wednesday Dinners
7 – Scalloped potatoes and ham, green beans, warm dinner rolls, tossed green salad, and dessert treat
14 – Indian Tacos with all the fixins
21 – Pork chops, stuffing, gravy, baked beans, applesauce, bread, tossed green salad, and a sweet treat
28 – Christmas vacation – no meal