"Treasures of Darkness": 2018 Advent Devotional
Once again OSL members are invited to submit brief devotional writings for the upcoming Advent Devotional booklet, which will focus on the theme "Treasures of Darkness."

A summary of this year's theme and a guide for writers may be found at the Information Center or online at oslchurch.com.

The deadline for submitting devotionals is October 31; send contributions to Bill Reynolds, breynolds@oslchurch.com, preferably as a Word document attached to an email message.

Joanna Kosinska
Make and Take Event
Everyone is invited to the Make and Take Giving Plate Cross+Gen Event, on November 11, at 10:00 a.m., in Fellowship Hall. Come decorate a plate to fill with treats and pass on to a friend. That friend can then enjoy the treats, refill it, and bless another—the giving never ends! This will be in lieu of regular Sunday School and Middle School Youth Group education that day. Students grade five and younger must attend with a parent or caring adult.
Time for the Advent Fair
The Advent Fair will be on November 28, from 5:30 to 7:00 p.m., on the Lower Level. There'll be Christmas goodies and crafts for the whole family to enjoy. Make an evening out of it by sharing supper in The Gathering Place beforehand, starting at 5:00, then come downstairs for fun for everyone. Students grade five and younger must attend with a parent or caring adult. There will be no Wednesday School or Confirmation on November 28.
Advent Music Series
Here's an exciting new opportunity to serve in Festive worship during the Advent season: The Advent Music Series.

If you are an instrumentalist or vocalist, come share your talents as preludes, postludes, and special music in Festive worship on Saturdays and Sundays throughout December. You are welcome to share one song or many, or you and a friend could sing/play a duet. The purpose is to create more diversity in the ways we hear about the coming of Jesus this Advent season.

If you are interested in serving, but don't know what music to share, Matthew will be happy to help you find selections from the OSL Music Library. All ages, instruments, and voices are welcome! Sign up at the Information Center or online at goo.gl/forms/FbN1wwIrTjLUOhmQ2. Questions? Contact Matthew Tylutki (mtylutki@oslchurch.com).
ELCA Mission Support
Click image for a larger view.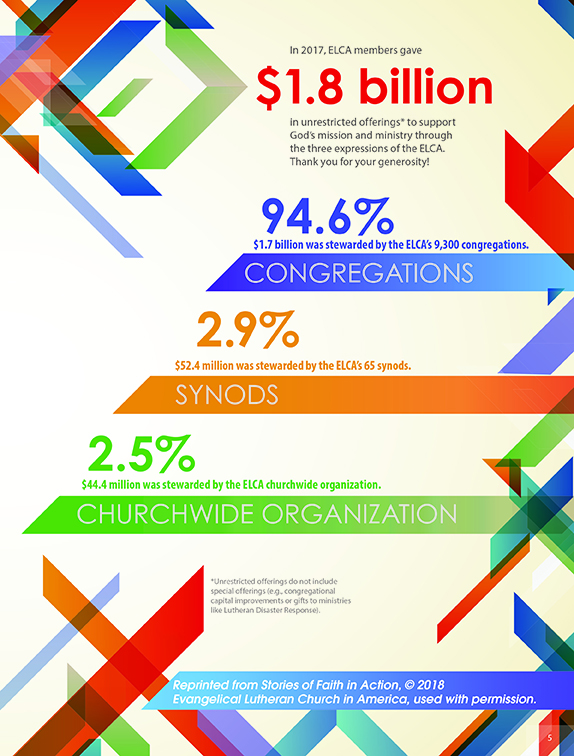 Connecting Faith and Life
Pastor Randy leads this ongoing adult-education course, meeting weekly with those who gather on Wednesdays, from 6:00 to 7:00 p.m., in the Friendship Room. All are welcome!

The current CFL course is a four-week study of the Old Testament book of Jonah. The book of Jonah paints a picture of a God who pushes God's people to go beyond religious and ethnic boundaries to share the love and mercy of God with all, and share God's desire to save all people. This study explores how Jonah offers a vision in which God's love and mercy is not only available to the people of Israel, but to other peoples as well.

A suggested donation of $8 will help cover the cost of materials.
Theology Tapped
Looking for engaging conversation on matters of faith and life in a fun, informal setting? Join Pr. Randy for Theology Tapped on Thursday, November 29, from 8:00 to 9:30 p.m., at Monk's House of Ale Repute, 420 E. 8th St.
Food to You Mobile Food Pantry
Three or four times a year, members of OSL participate in the Food to You Mobile Food Pantry, sponsored by 13 local ELCA congregations. Food items are collected throughout the year to be distributed at Food to You locations.

On a Thursday evening in August, OSL volunteers food distributed to 88 households—23 to 26 pounds of food per household—which included 253 people, 81 of whom were children. The distribution included:
• 275 cans or boxes of pasta, donated by members of the participating Lutheran congregations. Each family received three or four items, depending on family size
• Bread donated by Panera, Breadsmith, Einstein Bagels, and Breadico Bread
• Toilet paper and hygiene kits—one or two per family, depending on family size

Other items distributed were obtained from Feeding South Dakota:
• Canned pears, corn, tuna, and peanut butter
• 240 pounds of apples and watermelon
• 620 pounds of onions, potatoes, cabbages, and spinach
• 338 pounds of assorted meats
• 448 pounds of milk

Of the 88 households, 15% of adults said they are employed full-time, 15% are employed part-time, and 56% are unemployed, which includes individuals who are disabled. The food distributed helps families meet other financial needs, and provides needed nutrition to these families.

OSL plans to participate in this program in February. Why not consider volunteering for this worthwhile program? Look for sign-up information after the first of the year.

In the meantime, you may bring food items anytime and place them in the labeled bins near the main entrance. Here are the specific items being collected each month:
• October and April: Peanut butter
• November and May: Tuna and tuna helper
• December and June: Macaroni and cheese
• January and July: Pasta, any kind
• February and August: Hearty soup
• March and September: Cereal

OSL Food Ministry
OSL Food Ministry serves breakfast on Sundays in The Gathering Place, starting at 9:30, and Wednesday dinner starting at 5:00. All are welcome! Thank you for contributing to the freewill offering to help cover expenses.

November Menus (subject to change)
Sunday Breakfasts
4 – Bacon, scrambled eggs, roasted diced potatoes, yogurt, donut holes, and orange juice
11 – Egg bake, fruit, yogurt, donut holes, and orange juice
18 – Bacon, scrambled eggs, roasted diced potatoes, yogurt, donut holes, and orange juice
25 – TBD

Wednesday Dinners
7 – Spaghetti and meatballs, tossed green salad, garlic bread, and something sweet
14 – Chicken and garlic herb sauce, rice, diced carrots, tossed green salad, garlic bread, and something sweet
21 – Soup and pie supper
28 – Roast beef, mashed potatoes, gravy, green beans, Sister Schubert's rolls, and a delicious dessert
OSL Altar Guild
Have you ever wondered why or how the altar and Chancel areas in OSL's worship spaces change from time to time? Altar and pulpit paraments change to match the appropriate season of the church year—you'll notice that soon, as Advent begins—and the changes are done with the help of OSL's Altar Guild volunteers.

The work of the Altar Guild is more than housekeeping—in essence, it is to assist in creating and maintaining a climate of worship for the congregation.

Altar Guild volunteers:
• change altar paraments as needed seasonally
• care for altar and table linens
• dust the Chancel, Sacristy, and Chapel
• care for acolyte robes as needed

Altar Guild volunteers are always welcome! Typically, volunteers work in pairs for one month. To serve the Lord by helping in this important task, contact the Church Office, 336-2942, or Shirly Hillgren, 366-8092.

A brief meeting for all Altar Guild volunteers will be held on Sunday, November 4, between worship services, in Room 103, right off the Sanctuary. This will be an opportunity to gain more information, meet other volunteers and, if you wish, sign up for the month you'd like to serve. Bring your coffee—goodies will be provided!