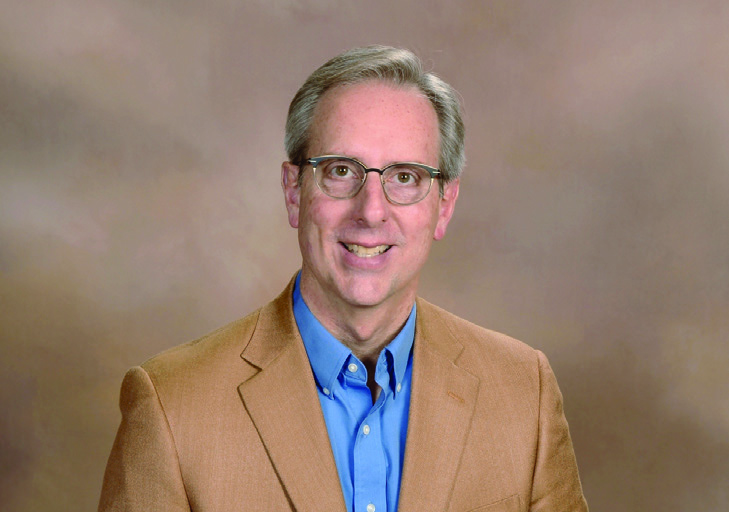 From the Pastor
We Need to Talk
Pr. Randy Gehring
The first sermon I preached at Our Savior's in December, after returning from a ten-week sabbatical, was a sermon I never imagined preaching. It was a sermon that addressed the reality of white privilege and white supremacy in our American culture.
To be honest, I wondered how it would be received. I referenced how the history we've been taught is inaccurate and devoid of details that implicate our own government in the genocide and ongoing oppression of the indigenous people of this land. I spoke of how our history lessons are missing key tales of how this country was built on the scarred backs of our dark-skinned brothers and sisters who were unjustly and inhumanely enslaved. And I pointed to how all of this selective history-telling has given rise to an "American Exceptionalism" under banners like "Manifest Destiny" and "Make America Great Again." But even though saying these words out loud made me shake in my shoes, never had I felt so convicted to preach a particular sermon as I did that one.
We who are white and Christian in this country live with great privilege, whether we recognize it or not. The lie that allowed our government and subsequently its citizens to carry out policies and practices so evil and so counter to our Christian faith—the lie of the narrative of racial differences—has allowed this country to develop in ways that make life fundamentally easier for those of European descent than it is for those who are not of European descent. Statistics starkly tell the story:
Incarceration rates, 2016 (Source: Pew Research Center)
272 white inmates for every 100,000 white adults
823 Latino inmates for every 100,000 Latino adults
1,549 black inmates for every 100,000 black adults
Household median net worth, 2016 (Source: U.S. Census Bureau)
$143,600 for white households
$21,240 for Latino households
$12,920 for black households
Home ownership rates, 2016 (Source: The Urban Institute)
71% for white households
45% for Latino households
41% for black households
College education rates, 2016
(associate's degree or higher) (Source: National Association for Education Statistics)
44% for white people
29% for black people
21% for Latino people
Poverty rates, 2018 (Source: Poverty USA)
10.1% for white people
17.6% for Latino people
20.8% for black people
I believe with all of my heart that our call as Jesus-followers is to confront this reality, call it what it is—racism, and do everything we can to dismantle the privilege we enjoy and benefit from so that the church and our communities may be safe places for all of God's children.
To that end, I began leading a class on Wednesday nights (6:00 to 7:00) during January that is teaching us how to have these difficult conversations around realities we'd rather not admit. I was pleasantly surprised when 61 people showed up for the first session. But I would welcome even more of you to the table over the next few weeks (the final class will be on February 19), if it would mean that together we are beginning the faithful work of dismantling white privilege and white supremacy.
Now more than ever, we need to talk, especially about the things nobody wants to talk about. Together, let's follow where the Holy Spirit is leading us, prayerfully following her lead and striving above all else to listen to the cries of our neighbors who have lived for so long under a system that relegates them to a place of relative disadvantage.
In Christ's love,
Pr. Randy Gehring
Mortgage Reduction and Refinancing Update
The Mission: Possible and the Mission: Possible Reignite mortgage-retirement campaigns were successful in reducing our mortgage from over $4 million to $1.8 million. Thank you to those who led the campaigns for their dedicated and tireless efforts: Pam and Dennis Hanneman, Jill Franken, Bob and Joan Thimjon, Scott Boyens, and Tom Berkland.
Even with the success of the campaigns, our former Congregation Council realized we would likely not generate enough funds to pay off our loan entirely; therefore, the council initiated a plan to absorb the remaining principal and interest payments into future annual ministry plans (operating budgets) as early as 2017. The first step was to include just the interest payments in the annual ministry plan and designate all remaining pledged capital and debt retirement campaign funds to principal reduction. This phased approach has given us time to develop capacity to pay our debt obligations with little or no impact on ministry programming.
The next step in the process is to include mortgage principal payments into future ministry plans once the remaining pledges are completed. The Finance Committee will continue to monitor our progress and recommend appropriate action to ensure we meet our obligations.
In August, Thrivent approached Our Savior's with some very attractive mortgage refinancing options. At that time, we also sought refinance options from our existing lender, Great Western Bank. Based on all the offers presented to us, the Finance Committee recommended to the Governing Board to refinance our mortgage with Thrivent at a 2.99% fixed rate for five years, which will be reset at that time at the market rate for an additional five years with no prepayment penalty. The previous interest rate was 3.75% and the interest savings based on this option is approximately $13,680 annually. The monthly principal and interest payment is approximately $3,000 less than our previous payment. The Governing Board approved this recommendation and we closed on the refinanced mortgage on November 21, 2019.
Those who still want to contribute funds toward mortgage reduction, either through a current campaign pledge or a new gift, may do so at any time by clearly indicating "Mortgage Reduction" on your contribution. For assistance, contact Barb Haugan in the Church Office, 336-2942, ext. 23, or bhaugan@oslchurch.com.
With these plans in place, we are now well positioned to take on the Bell Tower Project, an initiative to repair and renew the bell tower scheduled to begin this spring. In addition to leveraging funds from the Our Savior's Lutheran Church Foundation, we will need to raise and/or borrow funds to cover the cost of the project. A congregational appeal likely will be made later in 2020, inviting each of you to prayerfully consider contributing to this important project.
Thank you for your ongoing and faithful financial support of our mission to proclaim Christ and nurture faith that connects with everyday life.
Baptisms
January 5
Bodie Miles Missal, whose parents are David and Sarah Missal. Sponsors are the Tara and Scott Petersen family.
Flowers
January 12
Flowers in the Sanctuary and a telecast gift were given in loving memory of Warren Jensen, whose birthday was January 10, by his family.
January 19
Flowers in the Celebrate Center are given by Jim and Catherine Nelson in memory of their great-grandson, Witten Klingenberg, who would have been one year old on January 19.
Flowers in the Sanctuary and Celebrate Center are given in memory of Evelyn Wierenga, whose funeral will be Sunday, January 19, by her family.
Telecasts
January 19
Telecasts are sponsored in loving memory of Lou Madsen, from Helen Madsen and family.
January 26
Telecasts are sponsored by Bryan Peters, Lori Melin, and Safe-N-Secure Security Equipment, in memory of Marilyn Peters.
Memorials and Honoraria,
November–December 2019
In Memory of Phil Miedema
LeRoy and Janet Halstenson
Your Offering Makes a Difference
Your generosity is making a real difference in people's lives through the mission and ministry of OSL. Thank you for your faithfulness in giving and your passionate commitment to God's work through this congregation. Your continued generosity helps us reach our congregational goal of fully funding our ministry of connecting faith to everyday life.
Ministry Support Information for 2019 Is Available from the Church Office on Request