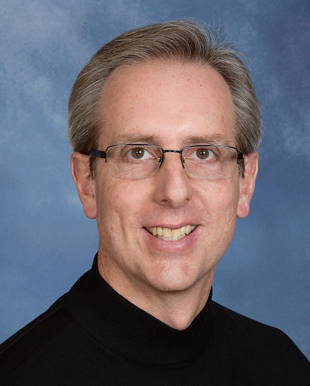 From the Senior Pastor
Reflections on
Electing a Bishop
Pr. Randy Gehring
By the time you read this, the 2019 South Dakota Synod Assembly will be for most of us a distant memory. Our Savior's was privileged again to host event, welcoming nearly 600 folks from around the state to our beautiful facility for a two-day experience of worship, decision-making, receiving reports from the church both near and far, and electing a bishop.
In my humble opinion, I think we hit the hospitality ball out of the park this year and I couldn't be more proud of our hard-working, dedicated staff and volunteers who all did their best to host the assembly with a sense of gracious welcome.
For me, this year's assembly was different because my name was part of the bishop election process through the third ballot. This wasn't necessarily a surprise: Bishop Zellmer had visited with me as early as last fall to suggest that I prepare myself to respond to the church should my name be lifted up as a candidate for bishop.
That visit initiated for me a lengthy process of discernment. At first, I didn't want to consider the option. Some of you may have the idea that being called to serve as bishop is a "promotion" much like it is for a vice president to be named Chief Executive Officer in a corporation. As a result, being elected bishop may seem to you to be a desirable thing, something to which one would aspire.
My experience, however, has given me a different lens through which I view that position. I recognize that it is an important position, and necessary, but there are responsibilities the bishop carries out that I, as I used to say, "wouldn't wish on anyone." It's not all fame and glory and pomp and circumstance; instead it can be a fairly thankless and lonely job.
So in my discernment, I challenged God: "Why me?" Why should I open myself to such a job? I talked at length with my wife, Shelly, and we prayed about it together. I sought out former bishops to talk about their experience and seek their advice on whether or not I should allow my name to be part of the process. I spoke with a dear friend who is a former synod staff member in Iowa. I talked it over with my mom. I spent time with a trained counselor who helped me work through my self-doubt and identify the gifts God has given me that could serve me well should I be elected bishop. I sought the advice and counsel of my executive coach. And I invited all of them as well as the leadership team, the staff, my LifeGroup, and a few other trusted friends here at Our Savior's to join me as prayer partners in this process of discernment. Through it all, I reached a point of relative peace so that when the time came to respond to the Bishop Election Committee following the Crossroads Conference Assembly, where my name was lifted up as a potential candidate, I was able to say Yes, I will allow my name to be part of the election process.
When the assembly began, the feelings I experienced ranged from excitement and anticipation to fear and foreboding. I believed God was calling me to be part of the process but I had no idea how far into the process my name would remain on the ballot. As it turned out, I was one of seven pastors chosen to speak to the assembly for five minutes each on Saturday morning. Though I was prepared with what I wanted to say, I had a hard time controlling my emotions and nerves. The scope and the gravity of what I was a part of was a heavy burden on my heart. When my turn came to speak, I was escorted into the Celebrate Center, introduced, and given five minutes on a timer conveniently displayed on the screens in the room.
So I began, my voice wavering and my heart pounding. By the second page of my notes I had relaxed enough to find a rhythm that felt a little more like what I experience when I'm preaching. When I turned the page and was about to launch into my conclusion, I decided to look at the timer. In that brief moment, I discovered I was going to run out of time. With nothing else to do, I continued until the microphone was turned off. With mixed emotions, I walked off the platform wishing I had been able to share the few lines that went unspoken.
The results of the third ballot revealed that I was not chosen as one of the three candidates whose names would be on the fourth ballot. Mostly I was relieved, actually being surprised by how much lighter I felt knowing that was no longer in the running. I received many affirmations from voting members who had appreciated my speech, as well as from Our Savior's members who shared with me they were glad I was staying at OSL. But I would not be honest if I didn't also say I was a little disappointed, primarily because, by the time the assembly met, I had reached a point of accepting the possibility of serving as the bishop of the South Dakota Synod, should I be elected. Even so, I'm glad and feel privileged to have been part of the process.
For now, what all of this means is that I continue serving as your senior pastor, and I couldn't be happier. Thank you for entrusting to me this call to serve among as one who proclaims God's liberating word and works alongside you to respond to the needs of our neighbors in Jesus' name. This is important and holy work that we share. Thank you for your love and support.
In Christ's love,
Pr. Randy Gehring
Synod Assembly Gathering Worship photos by
Bill Reynolds, OSL Communications Director.
Baptisms
May 19, 2019
Willow Grace Doohen, the daughter of Greg and Daisy Doohen.
Lucetta Kathryn Griesse, the daughter of Justine Griesse.
Flowers
June 2, 2019Flowers are given in grateful celebration by the Lehmann Family.
Telecasts
May 19, 2019
Telecasts are sponsored by Dennis and Patsy Holzwarth and Bob and Joan Thimjon in celebration of their 45th wedding anniversaries.
May 26, 2019
Telecasts are sponsored by Duane and Lois Nearman in honor of their 60th wedding anniversary, on May 30.
Memorials and Honoraria May–June 2019
In Memory of Marilyn Green
Don and Sarah Abbas
Richard and Janice Boe
Carol Denotter
Eloise Elmen
Mark and Janelle Hoven
Ron Hybertson
Lois Matson
William and Cynthia Nassen
In Memory of Marie Toews
(Mother of Jeanne Carter)
Jeanne Carter
In Honor of Pastor Don Lehmann's 80th Birthday
Charles and Sonja Anderson
Phyllis Krueger
Floyd and Carol Prouty
Don and Coryill Weeg
Carol Weisz
In Honor of Carol Nielsen's Birthday
James and Elizabeth Traxel
Don and Coryill Weeg
Your Offering Makes a Difference
Your generosity is making a real difference in people's lives through the mission and ministry of OSL. Thank you for your faithfulness in giving and your passionate commitment to God's work through this congregation. Your continued generosity helps us reach our congregational goal of fully funding our ministry of connecting faith to everyday life.
Ministry Support through May 31, 2019

| | |
| --- | --- |
| | Annual Giving |
| Projected Contributions | $1,969,580 |
| Received YTD | $820,203 |
| Remaining | $1,149,377 |
| Projected YTD | $865,603 |
| Ahead/(Behind) | ($45,400) |