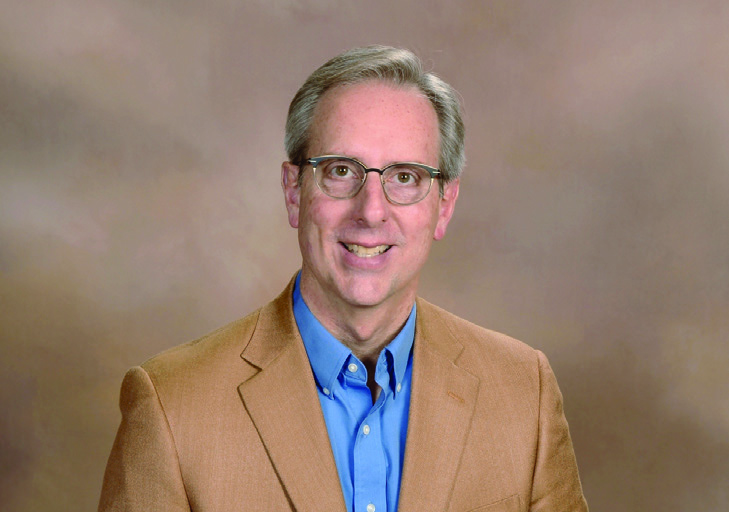 From the Senior Pastor
The Rhythm
of Work and Rest
Pr. Randy Gehring
"And on the seventh day God finished the work that [God] had done, and [God] rested on the seventh day from all the work that [God] had done. So God blessed the seventh day and hallowed it, because on it God rested from all the work that [God] had done in creation."
Genesis 2:2–3 (New Revised Standard Version)
Built into the fabric of creation is this rhythm of work and rest. According to Genesis, there is a time for work and a time for rest, even for God.
Unfortunately, we are a people and a church who routinely lose touch with this fundamental rhythm of creation in which work and play, toil and rest coexist in a harmonious balance that gives rise to health, wholeness, significance, and meaning. Evidence of this imbalance is all around us, even to the extent that our spiritual leaders—clergy and church professionals in particular—live lifestyles that neglect this rhythm to the detriment of their own health and spirituality.
Often in the church workload expectations exceed what is reasonable or sustainable as congregations try to maximize ministry programming with minimal human resources. Additionally, clergy and church professionals tend to be people who find it difficult to say no, especially when doing so would mean someone else may be unhappy.
Unfortunately this combination of external and internal expectations, while it may produce short-term success, most frequently leads toward an unhealthy life imbalance that ultimately results in some form of mental burnout and/or physical illness. Sleep patterns are disrupted. Maintaining a healthy weight becomes more and more difficult. Other more serious stress-induced health issues may arise that affect one's ability to be creative or find solutions for pressing challenges. Personal spirituality is neglected. Productivity declines. Job satisfaction wanes, and, as a result, at least for some, mobility forms are soon submitted to the appropriate judicatory.
In some ways, this has been my experience in the first six years of my ministry at Our Savior's Lutheran Church. I have found great satisfaction in serving as your senior pastor, but at the same time providing leadership through several pastoral and staff transitions, navigating through a time of financial uncertainty, and leading the transition in governance structure, in addition to the week-to-week work I routinely engage, have all taken a toll on me, especially with regard to how I observe and honor creation's holy rhythm of work and rest.
As a result, I have proposed and the Governing Board has approved a ten-week sabbatical/clergy renewal leave for me for the period September 23 through November 30. The focus of my time away from work will be four-fold:
1. Rest and renewal;
2. Leading change/Leadership development;
3. Fiscal year transition; and
4. Stewardship development.
The gift of this time of leave will not only afford me the opportunity to slow down and breathe in the fullness of life but it also will provide me with a significant amount of time in which to study and focus on key areas of ministry to better equip me as a spiritual leader so that I will be more able to lead this congregation into what I think is a pretty exciting future.
During this time of leave, others will share many of my responsibilities so that the day-to-day operations of this church will continue uninterrupted. The Governing Board and the staff are aware of how those responsibilities will be shared. Should you need assistance that I normally would provide while I am out of the office, simply call the Church Office, 336-2942, and you will be put in touch with the appropriate person.
Also, please honor the boundaries necessary for this sabbatical to be renewing and restful for all of us. Personally I will maintain a healthy distance from OSL during my time away so that I may experience the full benefit of stepping out of the routines of daily work. Contact with me for church-related business should be initiated by the acting head of staff, via the Church Office, or the congregational president, and only if deemed absolutely necessary.
Finally, while I am away, please join me in praying for the ministry that we share here at OSL. God is up to some pretty exciting things among us and my prayer during sabbatical will be that I will be renewed and fully equipped to discern and lead this congregation in carrying out its mission of proclaiming Christ and nurturing faith that connects with everyday life as effectively and as faithfully as possible.
In Christ's love,
Pr. Randy Gehring
Memorials and Honoraria, July–August 2019
In Memory of Stella Curry
Tracey Butler
Barb Haugan and Vern Murra
Dave Haugen
Loretta Nelson
Jim and Carol Oakland
Beth Quarnstrom
Joyce Quarnstrom
In Memory of Amy Falk
Donna Wilson
In Remembrance of These Birthdays, by Don and Coryill Weeg
Eloise Elmen
Carla Eng
Pauline Nelson
Jan Skorpik
Mary Sweeter
Your Offering Makes a Difference
Your generosity is making a real difference in people's lives through the mission and ministry of OSL. Thank you for your faithfulness in giving and your passionate commitment to God's work through this congregation. Your continued generosity helps us reach our congregational goal of fully funding our ministry of connecting faith to everyday life.
Ministry Support through August 31, 2019

| | |
| --- | --- |
| | Annual Giving |
| Projected Contributions | $1,969,580 |
| Received YTD | $1,202,275 |
| Remaining | $767,305 |
| Projected YTD | $1,298,838 |
| Ahead/(Behind) | ($96,562) |