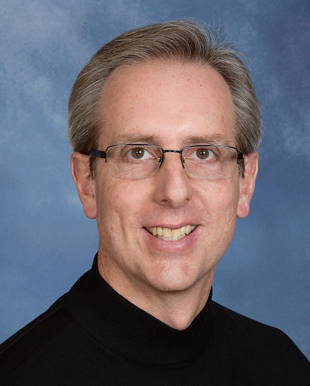 From the Senior Pastor
You Won't Want to Miss This!
Pr. Randy Gehring
Can you go to church too much?
Sometimes I'm convinced that the prevailing attitude among many of us when it comes to answering this question is, "It probably doesn't hurt to go to church more than I do, but actually getting to church doesn't seem to fit into the rest of my life very well."
Certainly there is more to life than going to church. I get that. But this month we have the opportunity to gather with Christians around the world to celebrate and remember a story of love and redemption unlike any other—the story of Jesus' death and resurrection. And unless we carve out time in our lives to attend worship each day that it's offered during Holy Week, we will miss one of the richest blessings the Church receives year after year as it reenacts the ancient tradition of the liturgy of the "Three Days."
Traditionally the Triduum (or the Three Days) begins with Maundy Thursday and concludes with the Easter Vigil on Saturday night of Holy Week. The liturgies of Maundy Thursday, Good Friday, and the Vigil of Easter form a single celebration of Jesus' Passover from death to life. Though they span three days, these liturgies are related elements of one extended worship service that prepare us fully to hear again, or perhaps for the very first time, the dramatic and life-saving news of Easter morning, "Christ is risen!"
For centuries the tradition of celebrating the Three Days was lost in the Church, perhaps because folks found it challenging, for whatever reason, to attend worship that frequently in one week. During this time other traditions developed that created "stand-alone" Holy Week worship experiences:
Protestant Holy Week rites have tended to accentuate the role of the preacher in telling the story of Christ's passion. Services based on the Franciscan devotion of the Stations of the Cross trace the way that Jesus walked. The Devotion of the Three Hours, created in 1687 by a Jesuit priest in Peru, combines the four gospels and presents sermons based on the seven last words of Jesus. A Lenten devotion called Tenebrae developed out of the morning prayers of medieval monastic communities and includes psalms of lament, the reading of the passion, the extinguishing of candles, and a frightening crash. These rituals consider the death of Christ as an event separated from his resurrection. To balance these services of penitence and mourning at the cross, Easter Day came to focus attention on the moment of Christ's resurrection. Moravians developed the Easter sunrise service, and West Coast American Protestants popularized this ritual of celebrating the resurrection as they observed the sun rising. Many churches developed Easter Day into an extravagant celebration, with banks of flowers often obscuring the place for the meal and external musicians hired to provide extraordinary music for the largest worshiping assembly of the year (Gail Ramshaw and Mons Teig, Keeping Time: The Church's Years, p. 95).
Our current Lutheran worship resources, however, seek to reclaim the ancient traditions of the Three Days. They call us back to a practice that honors and remembers the dramatic events that form the very core of our Christian faith. In the liturgy of the Three Days we are given a gift that takes us deeper in our relationship with the One who was crucified for our sake not only in the retelling of an ancient story but by connecting us with the faithful around the world and across time whose lives were forever changed when they, like us, encountered the risen Christ in the waters of baptism. It is the high point of the church year; to celebrate Easter without first walking the path of the Three Days essentially robs us of a spiritual practice, the only purpose of which is to deepen and enrich our experience of the mystery of our faith.
The prevailing attitude of our day may be that we can go to church too much. But I invite you to walk a different path this month, to attend worship throughout the Three Days as well as Easter morning, here at Our Savior's or wherever you find yourself during Holy Week. The promise to those who do is nothing less than the renewal of our life in Jesus Christ, and that sounds to me like something we wouldn't want to miss.
See you in church.
Pr. Randy Gehring
Is It Spring Yet?
The winter of 2018–19 may be remembered locally for some time. Weather-related closures and delays became commonplace and the realities of prolonged below-normal temperatures, prolific snow, strong winds, and heavy rain and flooding all taught us how to adapt and be flexible until warmer weather arrived.
Worship attendance numbers for the first quarter of 2019 certainly reflect the challenges this winter gave us and as a result, our first-quarter contributions income is below projections. As the weather warms, let's celebrate the arrival of spring by returning to worship, rejoicing in the gift of community we share here at OSL as well as the good work of ministry we're known for, and catching up on our offerings and pledges while enjoying the blessings that come with living joyful, generous lives.
Pr. Randy
Palm Sunday and Holy Week at OSL
Palm Sunday Weekend
Saturday, April 13, 5:00 p.m.
Sunday, April 14, 8:45 and 11:00 a.m. – Celebrate and Festive worship
Holy Week
Tuesday, April 16, 6:30 p.m. – Healing Service, Chapel
Maundy Thursday, April 18, 12:00 and 6:30 p.m.
Good Friday, April 19, 3:00 p.m. – GIFT (Generations in Faith Together) Family worship; 6:30 p.m.
Holy Saturday, April 20, 5:00 p.m.
Easter – The Resurrection of Our Lord, Sunday, April 21
7:00 a.m. – Sunrise Worship
8:45 and 11:00 a.m. – Celebrate and Festive worship
Time Grows Short!
Only a few openings remain to join Prs. Randy and Shelly Gehring next year on a cruise to the Greek Isles and Europe, including the Passion Play of Obergammergau—so don't delay! Contact Pr. Randy, 336-2942 or 595-4335, or
rgehring@oslchurch.com
.
Flowers
January 13, 2019
Flowers are sponsored in loving memory of Warren Jensen, whose birthday would be January 10, by his family.
February 3, 2019
Flowers are given by Ione Svendsen in memory of her son Darrell Svendsen, whose ashes are being buried at Black Hills National Cemetery on February 4, which is his 79th birthday.
Telecasts
January 20, 2019
Telecasts are sponsored in loving memory of Lou Madsen, from Helen Madsen and family.
Your Offering Makes a Difference
Your generosity is making a real difference in people's lives through the mission and ministry of OSL. Thank you for your faithfulness in giving and your passionate commitment to God's work through this congregation. Your continued generosity helps us reach our congregational goal of fully funding our ministry of connecting faith to everyday life.
Ministry Support through February 28, 2019

| | |
| --- | --- |
| | Annual Giving |
| Projected Contributions | $1,969,580 |
| Received YTD | $348,637 |
| Remaining | $1,620,943 |
| Ahead/(Behind) | ($80,039) |