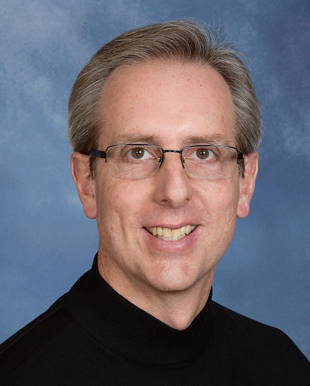 From the Senior Pastor
A New Day for
Church Governance
Pr. Randy Gehring
"Religion at its best is no friend of the status quo."
So begins Dan Hotchkiss's book Governance and Ministry: Rethinking Board Leadership. In it he identifies three signs of health for measuring the effectiveness of governance in congregations:
• A unified structure for making governance decisions, which include articulating mission, vision, and strategy; delegating the authority to achieve these things; and ensuring that authority is used responsibly and well.
• A unified structure for making operational decisions that delegates authority to create and manage effective programming and requires accountability so that the congregation's ministry goals and overall mission are achieved.
• An open, creative, and accountable atmosphere for ministry in which congregational members readily share their talents and interests in support of the congregation's mission.
Hotchkiss says, "The purpose of a governance structure is to deploy the congregation's power in a way that is both effective and legitimate" all in support of the congregation's mission." (p. 7)
In its research over the last 24 months or so, the Executive Committee has reflected on Hotchkiss's wisdom as it has reviewed OSL's governance structure. Our current strategic plan, affirmed at the 2016 annual meeting, called for this period of evaluation and research, recognizing that the structure that exists now may not be serving our mission as well as we need it to.
As a result of its research and discernment, the Executive Committee has recommended to the Congregation Council, which has subsequently voted unanimously to recommend to the congregation, that a new governance structure be implemented on a trial basis in 2019. This structure would consist of a seven-member Governing Board that includes the president, vice president, immediate past president, secretary, treasurer, one at-large member, and the senior pastor, all of whom would have voice and vote. Except for the past president and the senior pastor, all members would be elected by the congregation at its annual meeting in January. The governing board would exercise authority on matters related to governance (articulating mission, strategic planning, oversight of ministry, ensuring people and property are protected) and be served by three standing committees: Finance; Policy and Leadership Development; and Stewardship Development. A governing board member and the senior pastor would serve on each of these three committees along with several lay volunteers appointed by the governing board.
The senior pastor would also serve as head of staff and oversee the ministry of the congregation, which would be carried out by five core ministry teams lead by a full-time program staff member appointed by the senior pastor. Each core ministry team would include other staff members and lay volunteers appointed by the core ministry team leader. The five core ministry teams include Worship; Faith Formation; Discipleship; Spiritual Care; and Love in Action. Each core ministry team will be authorized to form secondary ministry teams to facilitate its area of ministry. These secondary ministry teams would exist for as long as necessary and include lay volunteers who would serve without limitation to term.
This proposed structure is detailed in two documents that were shared at the December 9 congregational meeting. The first, "Our Savior's Lutheran Church—An Evolution of Our Service to God," summarizes the process of review and evaluation carried out by the Executive Committee, their findings, their recommendation, and a summary of the proposed governance structure. The second document, "Interim Bylaws," would be the official document the congregation would use to guide our ministry going forward on a trial basis if the congregation votes affirmatively to implement the proposed governance structure recommended by the Congregation Council.
I strongly encourage you to pick up these two documents at the kiosk near the Information Center, or find them online at www.oslchurch.com, as well as a copy of our current bylaws, and begin the process of familiarizing yourself with these proposed changes. When we convene for our annual meeting on January 27, the recommendation from the Congregation Council will be on the agenda and a vote will be taken.
In addition to these documents, there will also be at least two informational forums during January to give you the opportunity to ask questions and provide feedback regarding this proposal as well as the draft 2019 ministry plan (budget). Details of when and where these forums will occur will be forthcoming.
In the meantime, please include OSL in your prayers as we engage this holy work of discernment together over the next several weeks. May the Holy Spirit guide our conversation, grant us wisdom, and strengthen us in faith and in our resolve to proclaim Christ and nurture faith that connects with everyday life.
With great excitement for the future of OSL,
Pr. Randy Gehring
Baptisms
November 11, 2018
Elliott Ronald Mortensen, the son of Aaron and Jess Mortensen.
Cashten Crew Albers, the son of Chris and Amy Albers.
November 18, 2018
August Charles Terrill, the son of Codi and Hillery Terrill.
Willa Boyd Glover, the son of Daniel and Lauren Glover.
November 24, 2018
Cameron Joseph Pociask, the son of Chris and Danielle Pociask.
Cade August Maurer, the son of Michael and Melissa Maurer.
November 25, 2018
Juliet Kelli Larsen, the daughter of Matthew and Jessica Larsen.
Memorials
In Memory of Matt Does
Stacy Kruse
Scott and Judy Kruse
Robert and Robin Rogers
In Memory of Velma Johnshoy
William and Sharon Speed
In Memory of Susan Jordahl
Doreen DeBoer
Telecasts
October 14, 2018
Telecasts are sponsored in memory of Martin and Alma Reinecke and Harold and Arlen Guthmiller by Margaret Novak.
Your Offering Makes a Difference
Your generosity is making a real difference in people's lives through the mission and ministry of OSL. Thank you for your faithfulness in giving and your passionate commitment to God's work through this congregation. Your continued generosity helps us reach our congregational goal of fully funding our ministry of connecting faith to everyday life.
Ministry Support through November 30, 2018

| | |
| --- | --- |
| | Annual Giving |
| Pledged | $1,849,306 |
| Received YTD | $1,689,049 |
| Remaining | $160,257 |
| Projected YTD | $1,630,608 |
| Ahead/(Behind) | $58,441 |