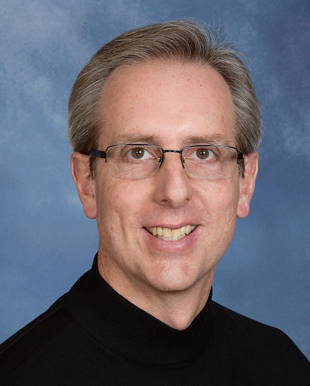 From the Senior Pastor
Speaking of Stuff
Pr. Randy Gehring
I have a confession to make: I have long been intrigued with fasting as a spiritual discipline. As an aging athlete, I have a great appreciation for the idea of committing myself to a regimen as a way of working toward a higher goal. Fasting, to me, has always seemed like a workout for the "spiritual athlete," adopting a practice—in this case, eliminating a meal or a particular food and replacing it with prayer and/or meditation—as a way of centering myself spiritually in order to grow closer to God and become more aware of God's will for my life.
This curiosity, however, has not necessarily led me to adopt fasting as a routine in my life. Food, it turns out, is something my body needs (!) on a fairly regular basis, and on those occasions when I have attempted to fast as part of a spiritual exercise, the rest of my life has suffered to the extent that any potential growth I may have experienced in my spiritual life was compromised by the side effects of being overly hungry.
Lent begins on Ash Wednesday, March 6, and in the church Lent has traditionally been a season of focusing on spiritual practices like fasting as a way of preparing our bodies, minds, and souls for the celebration of Easter. These practices tend to focus on giving up something, sort of an exercise in decluttering our lives so that there's more room to reflect on and accept our need for a savior.
Often this naturally leads to an unintended consequence: the adoption of a negative attitude toward the stuff that fills our lives, like it's inherently evil, always putting us at risk of losing our spirituality if we happen to develop a liking for it.
But here's the deal. We need stuff. We need food and water. This time of year it's clear we need a warm coat, and wool socks come in pretty handy too. Most of us need a car to get to work, everyone needs a place to live, and a few things like a table and a bed make life a whole lot more comfortable. So even if leaving some of that behind for a period of time can lead us on a journey of spiritual discovery and renewal, eventually we'll need to come back to at least most of it as a matter of survival.
Much of the time, however, the stuff we have tends to fade into the background where we just sort of take it for granted. The anthropologist Daniel Miller calls this the humility of things. Miller says, "The less we are aware of [things], the more powerfully they can determine our expectations…. They determine what takes place to the extent that we are unconscious of their capacity to do so." (Stuff, p. 50) In other words, even without our knowing it, stuff can set the stage for our lives, and because of that, we almost never understand how much stuff controls our lives.
But…if we ever want to understand our relationship to each other, or if we ever want to grow in our relationship with God, we need to have a healthy relationship with stuff.
This Lent, we'll notice the stuff around us. Once we notice it, we can begin to understand how much it controls us. Then we'll look to scripture, where we'll find that God doesn't want us to abandon all our things after all.
Instead, God wants us to put our stuff to godly use, like when we share things we have to help one another. God uses things to show us signs of God's promises. God gives us things to help us remember that God is here with us, right now. And God wants us to use things to enjoy the life God gives.
What kinds of stuff are we talking about here, anyhow? Well, anything. We'll talk about food. Our bodies, the thing we can't live without. Clothing, which controls us in ways we rarely consider. Religious items like crosses and Bibles. Even our houses, which are the biggest things most people own.
Once we notice things, we can acknowledge their power over us. Only then can we find release from their power as we turn the stuff in our lives to God's holy purposes.
I invite you to join us this Lent for what promises to be a journey of reflection and renewal. Weekend worship will keep the usual schedule, Saturdays at 5:00 p.m. and Sundays at 8:45 and 11:00 a.m. On Wednesdays during Lent, starting March 13, we will also gather at noon in the Chapel and at 6:40 p.m. in the Sanctuary for mid-week Lenten worship. On Ash Wednesday, March 6, worship including the imposition of ashes will take place at noon, 5:30, and 7:00 p.m., in the Sanctuary.
Together let's explore how we can use the stuff in our lives for godly purposes.
In Christ's love,
Pr. Randy Gehring
Flowers
January 13, 2019
Flowers are sponsored in loving memory of Warren Jensen, whose birthday would be January 10, by his family.
February 3, 2019
Flowers are given by Ione Svendsen in memory of her son Darrell Svendsen, whose ashes are being buried at Black Hills National Cemetery on February 4, which is his 79th birthday.
Telecasts
January 20, 2019
Telecasts are sponsored in loving memory of Lou Madsen, from Helen Madsen and family.
Your Offering Makes a Difference
Your generosity is making a real difference in people's lives through the mission and ministry of OSL. Thank you for your faithfulness in giving and your passionate commitment to God's work through this congregation. Your continued generosity helps us reach our congregational goal of fully funding our ministry of connecting faith to everyday life.
Ministry Support through January 31, 2019

| | |
| --- | --- |
| | Annual Giving |
| Projected Contributions | $1,969,580 |
| Received YTD | $217,8588 |
| Remaining | $1,751,722 |