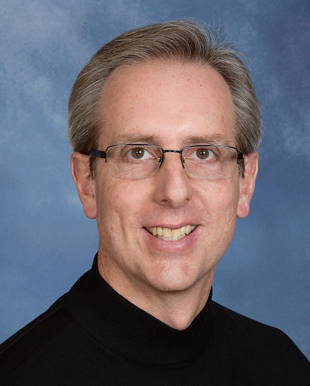 From the Senior Pastor
Time for an Update
Pr. Randy Gehring
Back in January, we voted to adopt interim bylaws and enter into a season of test-driving a new governance structure at Our Savior's. The time had come for us to "right-size" our system of governance to more effectively serve our mission.
Notable changes under the new structure include:
A seven-member Governing Board made up of the president, vice president, immediate past president, secretary, treasurer, an at-large member, and the senior pastor, with all positions except the senior pastor being elected positions, and all positions having voice and vote. This governing board replaces the former Congregation Council, a 20-member elected representative body that included four officers, four at-large members, and 12 representatives, one from each ministry board. All of the pastors and a representative from the Women of the ELCA also attended council meetings with voice but no vote.
The board is served by three standing committees that assist the board with its governance responsibilities: Finance; Policy and Leadership Development; and Stewardship Development. Each committee includes the senior pastor and another member of the board and several other congregational members appointed by the Governing Board without limitation to term.
Five Core Ministry Teams replace the 12 nine-member ministry boards. These teams, led by key program staff members, are comprised of appointed members recruited by the team leaders without limitation to term.
The congregation will be regularly invited into conversation by the Governing Board using an open question format to collaboratively discern future directions for OSL's ministry.
Perhaps the most succinct summary of the new model is to say that the Governing Board is in charge of governance, and the staff, headed by the senior pastor, is empowered to be in charge of ministry.
Now that a few months have passed since we voted to live into this new model, it's time for an update.
The Governing Board has met twice since January and has spent considerable time strategizing approaches to policy as well as learning the basic principles underlying the new model. The board has recruited and appointed members to the three standing committees, whose names are printed below. Board members include Dan Van Schepen, President; Alison Sahly, Vice President; Anne Rieck McFarland, Immediate Past President; Bruce Hasche, Secretary; Brian Sittig, Treasurer; Charlie Nesdahl, At-large; Pr. Randy Gehring, Senior Pastor.
The Finance Committee, comprised of Brian Sittig, Pr. Randy, Dean Buckneberg, Donna Jipp, and Jill Mollner, is overseeing the process of restructuring our financial reports to reflect the new ministry structure, reviewing current practices and policies with an eye toward recommending transitioning to a fiscal year that, starting in 2020, will begin on July 1, and discerning any new policies that may be necessary.
The Policy and Leadership Development Committee, comprised of Anne Rieck McFarland, Pr. Randy, Brenda Bernard, and Dan Lunder, is working on developing a template that will be used to aid in the writing of new policies while bringing consistency to the format of existing policies. They are developing a board orientation manual that will be used to orient current and all future board members to their duties and responsibilities. And they envision developing an integrated system for identifying and nurturing new leaders.
The Stewardship Development Committee, comprised of Pr. Randy, Andrea DeGroot-Nesdahl, Dan Drenkow, Brad Green, Dave Knudson, and Heidi Seefeldt, has yet to meet, having been recently appointed at the April 9 meeting of the Governing Board.
On the ministry side of the equation, here are the highlights from each of our five core ministry teams:
Faith Formation (Pr. Sami, team leader; Melissa Nesdahl; John Schomberg)
Since the transition, there is increased collaboration between our children's and youth ministries, strengthening both programs and collegiality.

Expanded activity-based opportunities allow for engagement in short-term ministry opportunities like VBS volunteers, Bible Immersion Camp leaders, and mission trip teams.

Additional opportunities to be part of ongoing ministries in a small scope include Sunday/Wednesday School education leaders, Hy-Vee Table, and High School Youth Leadership Team.
Spiritual Care (Pr. Tim, team leader; Michelle Anderson; Deb Harlan)
The new structure has renewed our commitment to the mission and strategic direction of our congregation.

It has reminded us of the rich and diverse ministry of our many volunteers within the Spiritual Care area. We are beginning to see more people interested in joining specific ministry teams that focus on the gifts and interests they have to offer.

The team feels empowered to look to the future with new excitement as we consider ways in which we can broaden spiritual care to our members, our community, and our world in partnership with new and existing ministry teams.
Discipleship (Pr. Justin, team leader; Lori Tendler; Becky Fiala; Julie Oien)
The excellent ministry of the Library now collaborates intentionally with LifeGroups, outreach, and adult education opportunities.

We've begun a subtle shift to actively acknowledging our meal service as a ministry, where the church feeds bodies and spirits.

We continue strong congregation-wide fellowship opportunities like our Chili Cook-Off, blessing bags to our homebound parishioners, and more.

Staff that led ministry teams now collaborate within this core ministry area, facilitating greater communication and connections between programs.
Love in Action (Pr. Justin, team leader; Jetty Duffy Matzner; DeAnn Corcoran; Brenda Bernard; Kris Breitag)
The shift to ministry teams has liberated this ministry area to undertake several new initiatives:
Discharge with Dignity: A new program coordinated through Sanford to provide patients with necessary clothing like shoes and pants before discharge.
Ramps on Rosebud: In partnership with Celebration in Brandon, we will travel to the reservation to build ramps for elders who have no wheelchair access into their homes.
Bigs and Littles Dance: We're coordinating a first-ever intergenerational dance with our ministry partners at Pueblo de Dios.
Worship (Gene LeVasseur, team leader; Matthew Tylutki; Denny Gale; Tom Syverson; Don Lange; Paul Davidson)
Under the new governance structure, we have experienced a streamlined decision-making process, which helps us be more nimble and creative.
Our team is comprised of key staff members as well as congregational members who sense a deep commitment and call to serve OSL's worship life.
We are working on developing a new understanding of what was formerly known as Deacons at OSL and creating more on-ramps for congregational members to share in some of those helpful and important duties on a short-term basis.
Because this transition to a new governance structure is a pilot, we welcome your feedback, your questions, and your prayers. Together we will continue to strive to be a church that "proclaims Christ and nurtures faith that connects with everyday life."
Grateful for your partnership,
Pr. Randy Gehring
Baptisms
April 7, 2019
Tate Gerrett Van Heerde, the son of Tyler and Megan Van Heerde.
Flowers
March 31, 2019
Flowers are sponsored in memory of Dr. Loren Amundson and son Mark by the Amundson Family, Mavis Amundson, Jim and Carolynn Stavenger, and the grandchildren.
April 7, 2019
Flowers are given in memory of Orville Helgerson's birthday, on April 9, by his family.
Memorials and Honoraria
January–April 2019
In Memory of Robert Roble
Craig Dean and Donna Murasky
In Memory of Marilyn Green
Gary and Darlene Murra
Arlen Viste
In Memory of Lois Loge
Arden and Darlene Barlow
Jerald and Sylvia Berg
Melissa Cooper
Douglas DeGroot
Dennis and Mitzi Drey
Jan Dudley
Thomas and Theresa Dunn
Dorothy Eide
Rita Elmen
Becky Fiala
Michael and Kristen Gabrick
David Herbert
Jeffrey and Sarah Herbert
Pamela Hoiland
Arlene Horner
Mark and Kriss Ibis
Frances Kilen
Richard and Jeri Krsnak
Ann Johnson
Jay and Joyce Larscheid
Daniel and Mary Loge
L. Nesje
Donald and Toady Weeg
In Honor of Harriet Bresee's 85th Birthday
Don and Toady Weeg
In Honor of Lois Nearman's 80th Birthday
Sarah Herbert
Correction
In the February 2019 Intercom, the following Memorials, listed under Matthew Doese, should have been listed under Velma Johnshoy:
Lucy Selander
Marie Svang
Your Offering Makes a Difference
Your generosity is making a real difference in people's lives through the mission and ministry of OSL. Thank you for your faithfulness in giving and your passionate commitment to God's work through this congregation. Your continued generosity helps us reach our congregational goal of fully funding our ministry of connecting faith to everyday life.
Ministry Support through March 31, 2019

| | |
| --- | --- |
| | Annual Giving |
| Projected Contributions | $1,969,580 |
| Received YTD | $513,102 |
| Remaining | $1,456,478 |
| Projected YTD | $594,711 |
| Ahead/(Behind) | ($81,609) |