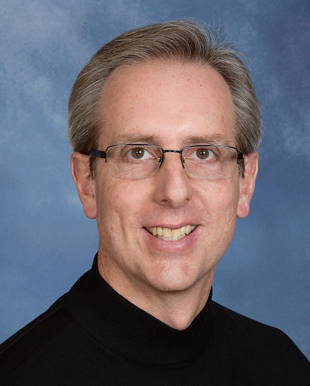 From the Senior Pastor
Finding Joy,
Sharing Joy
Pr. Randy Gehring
I am a pastor. I am not a truck driver.
For two weeks every October, though, I drive this International semi (below) and participate in the annual ritual that is the sugar beet harvest in the Red River Valley of the North.
Each day—when the weather is fit—I arrive at the farm around 1:15 a.m. to drive a 12-hour shift, 2:00 a.m. to 2:00 p.m. In the field, I drive alongside the tractor/lifter, receive about 50,000 pounds of sugar beets, and haul them from the field to the piling station, where they are stored until they can be processed at the factory.
When conditions are wet and my truck cannot pull its load through the field, I get a little help from a four-wheel-drive Steiger Lion (below). This powerful tractor easily pulls my loaded truck to a drier part of the field and gets me up to speed. The driver then releases the hitch hydraulically and I'm on my way with another load.
Of course, working a 12-hour shift day after day can be kind of a grind, but it is so different than what I typically do as a pastor that the lack of sleep is a minor inconvenience.
Share Joy! Now on Video!
To view (or re-view) the Share Joy! stewardship videos shown in worship services in late October, just visit oslchurch.com/category/video and click the approriate links. See how some of your fellow OSL members are sharing the joy of being people of God!
Instead, I am renewed through being part of something elemental—harvesting a crop that's been nurtured all summer long. I feel revived by using and being around large machinery that functions—when it's working properly—to make the farmer's job easier and increases his or her capacity to produce a crop and make a living. And, as a result, my spirit is filled with joy. It's a wonderful time of year.
November is that time of year when we at OSL conduct our annual stewardship appeal. The theme of this year's appeal is Share Joy! and is based on that well-known verse in Nehemiah, "…the joy of the Lord is your strength." (Nehemiah 8:10) This little Bible nugget reminds us that the joy we experience as a result of God's faithfulness is a strength that can carry us through even the most difficult challenges.
Share Joy! is as much about celebrating this strength as it is about committing ourselves to sharing the blessings we've received with a hurting world. Indeed, the blessing we have to offer is nothing less than the joy of the Lord, a joy that breeds strength and courage and patience and gratitude for daily living.
On Share Joy! Weekend, November 10 and 11, we will take time during worship to complete our Statements of Intent, which will indicate our intent to support financially the ministry of OSL in 2019, and present them as an act of worship during the Offering. Watch for more information coming to your mailbox soon that will explain the process and invite you to participate.
For now, spend a little time reflecting on what gives you joy, thank God for the many blessings God has given you, and prayerfully consider how God is calling you to share some of what you've been given in support of OSL's growing ministry. Responding together as the Spirit leads us, we will be empowered to share the Joy of the Lord in 2019. Thanks be to God!
Baptisms
September 23, 2018
Ellie Evelyn Gotham, the daughter of Sam and Elizabeth Gotham.
October 6, 2018
Berklee Kay Begeman, the daughter of Mitchell and Katelyn Begeman.
Memorials
In Memory of Loren Amundson
Judy Dedrickson
In Memory of Audrey Anderson
Leonard and JoAnne Dankey
Eloise Elmen
Tom and Cheryl Gaeckle
John and Shirly Hillgren
Pamela Hoiland
Richard and Jeri Krsnak
Darlene Kaye Telkamp
In Memory of Judy Johnson
Karen Kratochvil
In Memory of Nancy Phelan
Rita Elmen
In Memory of Truman Phelan
Rita Elmen
In Memory of Joyce Schmidt
Janet Anderson
Tom and Olive Bakke
Helen Ellefson
Lyle and Vikki Farrand
Renee Fletcher
Charles and Sherrey Kellogg
Miriam Lonning
Willard and Shirley Martens
Daniel and Teresa Noethlich
Jacki Nothdurft
Walt and Patricia Schaefer
Kathy Zorning
In Memory of Eileen (Schuett) Ward
Lorraine Kautz
Flowers
October 14, 2018
Flowers are sponsored by Ralph and LaVonne Johnshoy in honor of their 66th wedding anniversary on October 11, with thanks and gratitude to God.
Telecasts
October 7, 2018
Telecasts sponsored by Shirley Vehle in memory of Luverne and Billy Vehle.
<p><span style="color: #2ea3f2; font-family: Arial,Helvetica,sans-serif; font-size: 14px; margin-bottom: 0px; margin-top: 0px;"><b>Your Offering Makes a Difference</b></span><br>Your generosity is making a real difference in people's lives through the mission and ministry of OSL. Thank you for your faithfulness in giving and your passionate commitment to God's work through this congregation. Your continued generosity helps us reach our congregational goal of fully funding our ministry of connecting faith to everyday life.</p>
<p><strong>Ministry Support through September 30, 2018</strong><br> <table style="width:60%"><!-- [et_pb_line_break_holder] --> <tr><!-- [et_pb_line_break_holder] --> <td> </td><!-- [et_pb_line_break_holder] --> <td>Annual Giving</td> <!-- [et_pb_line_break_holder] --> </tr><!-- [et_pb_line_break_holder] --> <tr><!-- [et_pb_line_break_holder] --> <td>Pledged</td><!-- [et_pb_line_break_holder] --> <td>$1,849,306</td> <!-- [et_pb_line_break_holder] --> <tr><!-- [et_pb_line_break_holder] --> <td>Received YTD</td><!-- [et_pb_line_break_holder] --> <td>$1,367,166</td> <!-- [et_pb_line_break_holder] --> </tr><!-- [et_pb_line_break_holder] --> <tr><!-- [et_pb_line_break_holder] --> <td>Remaining</td><!-- [et_pb_line_break_holder] --> <td>$482,140</td> <!-- [et_pb_line_break_holder] --> </tr><!-- [et_pb_line_break_holder] --> <tr><!-- [et_pb_line_break_holder] --> <td>Projected YTD</td><!-- [et_pb_line_break_holder] --> <td>$1,331,121</td> <!-- [et_pb_line_break_holder] --> </tr><!-- [et_pb_line_break_holder] --> <tr><!-- [et_pb_line_break_holder] --> <td>Ahead/(Behind)</td><!-- [et_pb_line_break_holder] --> <td>$36,045</td> <!-- [et_pb_line_break_holder] --> </tr><!-- [et_pb_line_break_holder] --></table><!-- [et_pb_line_break_holder] -->
<p style="text-align: center"><span style="color: #2ea3f2 ; font-family: Arial,Helvetica,sans-serif; text-align: center; font-size: 16px; margin-bottom: 0px; margin-top: 0px;"><b>Be Notified When <i>The Intercom </i>Is Updated!</b></span></p><br><!-- BEGIN: Constant Contact Email List Form Button --><div align="center"><a href="http://visitor.r20.constantcontact.com/d.jsp?llr=cgxs7srab&p=oi&m=1118399192258&sit=5itf56ajb&f=367e76f6-0208-4b67-b32c-a3d9f409786c" class="button" style="background-color: rgb(0, 0, 144); border: 1px solid rgb(91, 91, 91); color: rgb(255, 255, 255); display: inline-block; padding: 8px 10px; text-shadow: none; border-radius: 10px;">Sign Up for The Intercom</a><!-- BEGIN: Email Marketing you can trust --><div id="ctct_button_footer" style="font-family:Arial,Helvetica,sans-serif;font-size:10px;color:#999999;margin-top: 10px;" align="center">For Email Marketing you can trust.</div></div>