Meet OSL's
Interim Senior Pastor, Paul Svingen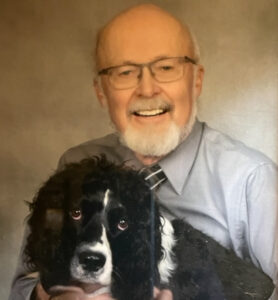 Photo: Pr. Paul Svingen and Micah.

Greetings, Members and Friends of our Lord at Our Savior's,
I am happy to report that I have received a Call from South Dakota Synod Bishop Hagmaier and your Our Savior's Governing Team to serve Our Savior's as Intentional Interim Senior Pastor beginning on September 19. I am pleased to tell you that I have gratefully accepted this Pastoral Call to Interim Ministry together with you.
Over the years since my ordination in 1975, I have specialized in serving ELCA congregations living in the in-between times of pastoral leadership change. I have served more than 35 congregations across 10 states, most of Program or Corporate size, transitioning into the future God creates for them. This specialized pastoral ministry is indeed my internal call from God and thus I continue to serve in this context with faith, hope, and love.
My wife, Susan, and I live on the shores of Island Lake, midway between Pine River and Longville, Minn. We are members of Salem Lutheran in Longville. After an extensive career in human services both in Minneapolis and until recently in Pine River, Susan and I have made "up North" our permanent home since 2009.
Our son Randy and his wife Melissa live near Elkhart Lake, Wisc., and this year became empty nesters as their youngest of three daughters (Peyton, Brenna, and Kenzie) joined her sister and entered the freshman class at Edgewood College in Madison, Wisc. Peyton is a graduate student studying neuroscience at Lewis and Clark University in Portland, Ore. Our daughter Kristi and husband Lee live on the same Minnesota Lake as we. Kristi works for a national company that trains electrical service workers in safety practices in conformance with OSHA standards.
I am very much looking forward to our forthcoming interim ministry together as we traverse the terrain left as a result of the recent departure of your senior pastor. What I am able to bring to Our Savior's in this critical moment for ministry is the wealth of experience I have been granted by many, many wonderful people in the congregations I have so richly been blest to serve as they have intentionally embraced their interim time as God's time with and for them. May we all continue to grow together as we claim the privilege of serving our Lord Jesus Christ and the mission he has set before us all.
I close with the words of Pr. Wayne Williams, a former student of mine and now an African Methodist Episcopal pastor in Louisiana, "A set-back is a set-up for a come-back." I have found that reality to be so very true, and I suspect that you likely have discovered the same in your life.
Grace and Peace,
Pr. Paul N. Svingen