Ministry Spotlight:
Communications
Say what you will about the COVID-19 pandemic that is (hopefully) in our rear-view mirror, the experience has taught us more than a few things. It's taught us that we can adapt and improvise. It's taught us that "we've always done it that way" does not mean we must always do it that way. And it's taught us the importance of connectedness.
A little more than a year ago, our sense of connectedness was shaken. We were encouraged to stay home as much as possible. In-person gatherings were discouraged; in some cases, they were made impossible, as various businesses and agencies locked their doors—indeed, Our Savior's campus was closed for several months in early 2020.
How can we remain connected when a deadly virus insists we keep our distance, shelter in place, work from home?
The answer: Communication. Using every tool, every channel, every idea we can think of to keep the connection alive, striving to hold the community together and maintain some semblance of the physical connectedness we so missed.
Fortunately, OSL already had in place a strong, vital communications ministry team: Pr. Justin Kosec, Pastor of Outreach and Communication; Bill Reynolds, Director of Communications; and Melissa Nesdahl, Director of Faith Formation and Facebook virtuoso. Additionally, every member of the OSL staff, whether working from home or the office, stepped in and stepped up, redoubling their outreach in their respective ministry areas.
Perhaps most visible, as the worsening pandemic made it clear that in-person worship was imprudent, was OSL's emphasis on worshiping from home. Fortunately, Our Savior's has long had a presence on broadcast television, and more recently has streamed worship services on Facebook, subsequently posting recordings of them at oslchurch.com. A certain amount of creative rethinking was required, though, since of course the worship spaces would be empty of worshipers, but OSL's dedicated TV Ministry team was more than up to the challenge of reconfiguring video shots, and the pastors quickly adjusted to leading an invisible, far-flung congregation in worship. Socially distant musicians and vocalists made for a full, rich experience for all.
Of course, worshiping from home meant no hymnals. So a couple adjustments had to be made to the bulletins: First, they were retooled to be more digital-friendly, the idea being that folks would follow along on their phones or tablets as they worshiped via TV or livestream. For Festive services, Gene LeVasseur, Director of Worship and Music, provided hymn graphics for Bill to incorporate in the digital publications…since it seemed cruel to direct people to a hymnal they didn't have!
Bulletins for the Celebrate services expanded as well, with song lyrics included every week—just like with outdoor worship bulletins—since the usual habit of putting lyrics on the screens in the Celebrate Center would not be too helpful.
And bulletin announcements? With nothing being printed, those moved into the digital world, too. Coming up at OSL, the weekly website post about OSL events and activities, expanded to include items that previously would have appeared in the printed announcements. To be sure, there were fewer such announcements last spring, when activities and events were canceled, but nevertheless, the expanded Coming up at OSL was another way to keep folks connected to their church community, and an uptick in both the email's subscriptions and open rate indicate it was a useful channel.
In that same vein, Melissa made sure OSL's Facebook page was continuously updated with relevant information and inspiration, sparking ever-increasing engagement with this popular medium.
The OSL website was pressed into service like never before, too, receiving more than 19,000 visits in calendar year 2020. Frequent—sometimes daily—updates to Our Savior's pandemic policy were posted, along with all sorts of information and resources from the Centers for Disease Control and other agencies, as well as advice on coping with pandemic stress and helping others do so as well. Of course, the website also was and is the home of OSL's digital publications.
Early in the pandemic, the pastoral staff inaugurated a Pastoral Letter, weekly at first, less frequent as the pandemic eased. These letters were printed and mailed to every OSL household and emailed to everyone on Our Savior's list. As of this writing, 45 Pastoral Letters have gone out since March 18, 2020. All are archived on the OSL website.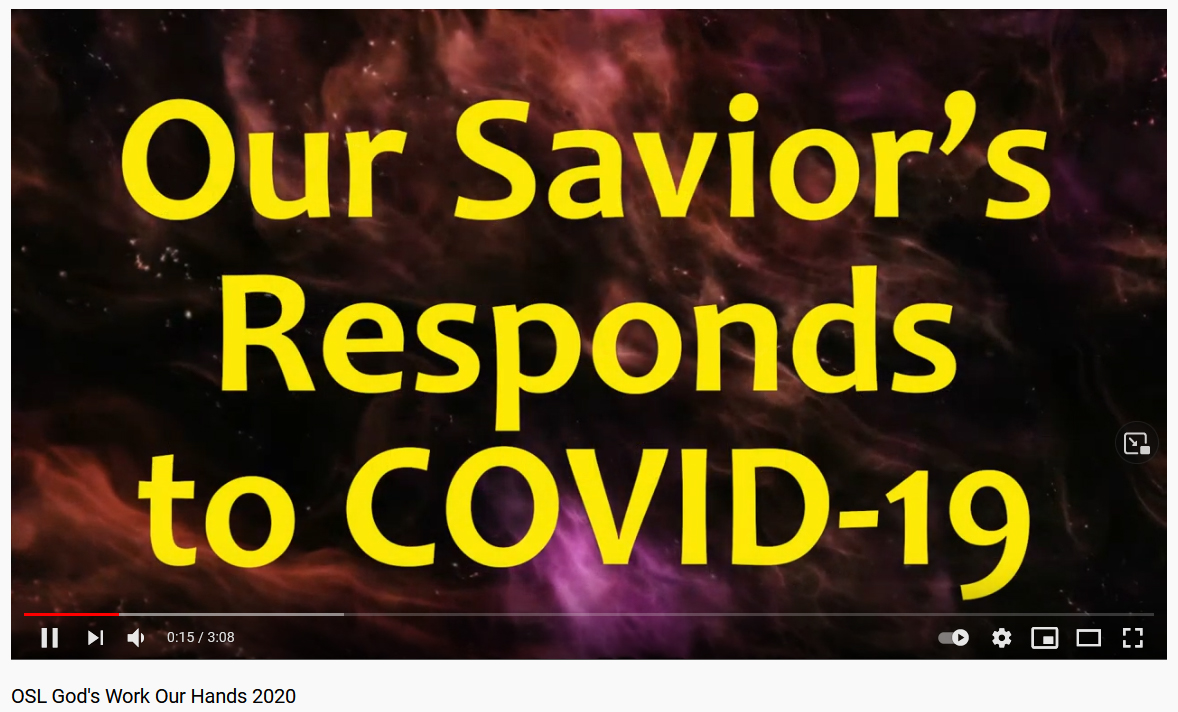 The website also began to host an increasing number of videos—another communication channel that grew exponentially in the past year. Our Savior's YouTube channel increased by nearly 50 subscribers during the year, and more than 200 videos were posted in that time, with more added weekly. These include recordings of Sunday worship services, weekly Information Video updates of various goings-on, and such special videos as OSL Generosity Stories; Music Devotions; Freddy and His Faith-full Friends; Behind-the Scenes of Easter; God's Work. Our Hands; 2020 Easter Vigil Readings by the Hours; and so on.
Now—with the return of in-person worship services, an ever-growing schedule of events and activities, and a general feeling that a corner has been turned in this health crisis—creativity is directed toward what communication changes will be kept permanently, what will be scaled back toward pre-COVID models, and what will continue to be nurtured and grown into the future.
One thing is certain, though: The OSL community has proven itself strong, compassionate, and adaptable, and through the long, difficult COVID-19 experience, has maintained a level of connectedness that never flagged.