Monthly Book Club for Adults
The Book Club for Adults meets at 7:00 P.M. on the fourth Thursday of each month in the OSL Library to discuss that month's novel. The August 24 selection will be The Nest by Cynthia D'Aprix Sweeney.
Every family has its problems, but even among the most troubled, the Plumb family stands out as spectacularly dysfunctional.
Years of simmering tensions finally reach a breaking point on an unseasonably cold afternoon in New York City as Melody, Beatrice, and Jack Plumb gather to confront their charismatic and reckless older brother, Leo, freshly released from rehab. Months earlier Leo had a car accident that has endangered the Plumbs' joint trust fund, "The Nest," which they are months away from finally receiving.
Meant by their deceased father to be a modest mid-life supplement, the Nest's value has soared along with the stock market, and the Plumb siblings have been counting on the money to solve a number of self-inflicted problems.
The Nest is a story about the power of family, the possibilities of friendship, the ways we depend upon one another and the ways we let one another down. In this deftly written debut, Sweeney brings a remarkable cast of characters to life to illuminate what money does to relationships, what happens to our ambitions over the course of time, and the fraught yet unbreakable ties we share with those we love.
Join this exciting community of readers! A list of the 2017 selections is available in the Library.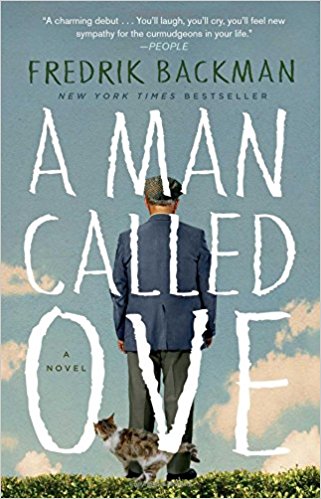 One Church One Read
Stop in the OSL Library, check out a copy of A Man Called Ove by Fredrick Backman, and join the Library's fall One Church One Read discussion on September 24, at 10:00 a.m., in the Friendship Room.
Ove is a curmudgeon—the kind of man who points at people he dislikes as if they were burglars caught outside his bedroom window. He has staunch principles, strict routines, and a short fuse. People call him "the bitter neighbor" but must Ove be considered bitter just because he doesn't walk around with a smile plastered to his face all the time?
Behind the cranky exterior there is a story and a sadness. One November morning a chatty young couple with two chatty young daughters move in next door and accidentally flatten Ove's mailbox. It is the lead-in to a comical and heartwarming tale of unkempt cats, unexpected friendship, and the ancient art of backing up a U-Haul—all of which will change one cranky old man and a local residents' association to their very foundations. A feel-good story in the spirit of The Unlikely Pilgrimage of Harold Fry and Major Pettigrew's Last Stand, Fredrik Backman's novel about the angry old man next door is a thoughtful exploration of the profound impact one life has on countless others.
Library Hours
Sunday 8:15 a.m.–12:00 p.m.
Monday 9:00 a.m.–noon
Tuesday 9:00 a.m.–noon
Wednesday 9:00 a.m.–3:00 p.m.
Thursday 9:00 a.m.–noon
Friday Closed
2nd Saturday of the month 10:00 a.m.–noon and 4:30–6:30 p.m.
The Shack—Book and Movie
To help OSL members prepare for the upcoming three-week fall series based on The Shack (beginning the weekend of September 16–17; see Pr. Randy's column for more information), the OSL Library has multiple copies of the book available for check-out, and has scheduled four free showings of the movie, in the HolyWord Theatre,
on these dates:
• Wednesday, August 16, following Summer Blast worship (approximately 7:10 p.m.). Popcorn will be served.
• Wednesday, September 13, at 6:00 p.m. Popcorn will be served.
• Sunday, September 10, at 12:30 p.m. A pizza and salad lunch will be served for those who RSVP to the Library prior to noon on Thursday, September 7.
• Saturday, September 16, at 2:30 p.m. Popcorn will be served.
Build a Better World Reading Program Ends Soon
Over 80 children and youth have been reading books this summer, as part of the OSL Library's Build a Better World summer reading program, which will end on August 13.
Participants are competing in a contest to see who reads the most books during the 10-week program. Library staff are tracking the children and youths' progress by building a domino city landscape on the bulletin board in the Library. Each participating child selected a domino color, and dots are being placed on the dominoes for each book they read. At the end of the program, the one child and one youth who have read the most books will receive a grand prize.
Reading Participants, Volunteers Serve Sioux Falls
To put the OSL Library's summer reading program, Build a Better World, into action and live out OSL's mission of connecting faith to everyday life, children involved in the program, their parents, and Library Committee members participated in the Serve Sioux Falls: 60 Days to Unite a City community service project on Saturday, July 15.
The OSL Library's Serve Sioux Falls project, Red Door: Laundry of Love, blessed local laundromat customers by offering free services (quarters, detergent, laundry bags, and kids' activities) and initiating relationships with the customers. Volunteers did over 80 loads for customers. One young man said he had saved to do his laundry for quite a while and was willing to pay for his own, since he had the money, but when it was suggested that he use his money for other necessities, he accepted gratefully, saying he felt God had brought him to that particular laundromat that day—and that he could really use some groceries. A woman said she had brought only half of her laundry, since that is all she could afford to do. With tears in her eyes, she said she felt so blessed and could now buy gas to get to work the following week.
Laundry of Love volunteers included David Bacon; Jeanne Carter; Kathy Horsted; Deb Merxbauer; Jay, Jim, and Nora Novak; Ashley Paulson; Barb Peterson; and Donna and Dick Wilson.
Photos: (top to bottom) OSL volunteers with a couple of laundromat customers; Donna Wilson converses with a customer; Jay Novak starts a washing machine; two Laundry of Love customers with their new Thrivent T-shirt.
New Picture, Chapter Books,
and Early Readers
Same Kind of Different as Me for Kids by Ron Hall and Denver Moore. This remarkable story shows what can happen when we choose to help. Kids will discover that we can all make a difference—no matter how big or small we are and no matter how big or small the task.
Based on the New York Times bestseller Same Kind of Different as Me, which sold more than a million copies worldwide and inspired a major motion picture, this book tells the true story of Denver Moore and Ron Hall, who also created the delightful illustrations in this book. Share the power of friendship and faith with your children.
Additional New Picture Books
• If I Built a House by Chris Van Dusen
• Tap the Magic Tree by Christie Matheson
New Early Readers
• Go, Dog, Go by P. D. Eastman
• And to Think That I Saw It on Mulberry Street by Dr. Seuss
New Chapter Books
• Who Is Barack Obama? by Roberta Edwards
• Haggis and Tank Unleashed: Howl at the Moon by Jessica Young
New for Middle- and High-School Youth
Born a Crime: Stories from a South African Childhood by Trevor Noah. Noah's unlikely path from apartheid South Africa to the desk of The Daily Show began with a criminal act: his birth. Trevor was born to a white Swiss father and a black Xhosa mother at a time when such a union was punishable by five years in prison. Living proof of his parents' indiscretion, Trevor was kept mostly indoors for the earliest years of his life, bound by the extreme and often absurd measures his mother took to hide him from a government that could, at any moment, steal him away. Finally liberated by the end of South Africa's tyrannical white rule, Trevor and his mother set forth on a grand adventure, living openly and freely and embracing the opportunities won by a centuries-long struggle.
Born a Crime is the story of a mischievous young boy who grows into a restless young man as he struggles to find himself in a world where he was never supposed to exist. It is also the story of that young man's relationship with his fearless, rebellious, and fervently religious mother—a woman determined to save her son from the cycle of poverty, violence, and abuse that would ultimately threaten her own life.
The stories collected here are by turns hilarious, dramatic, and deeply affecting. His stories weave together to form a moving and searingly funny portrait of a boy making his way through a damaged world in a dangerous time, armed only with a keen sense of humor and a mother's unconventional, unconditional love.
Additional New Titles
• Unleashed by Gordon Korman
• Ramona and Her Father by Beverly Cleary
• The Tale of Despereaux by Kate DiCamillo
New Books for Adults
Martin Luther: Rebel in an Age of Upheaval by Heinz Schilling. No other German has shaped the history of early–modern Europe more than Martin Luther.
In this comprehensive and balanced biography we see Luther as a rebel, but not as a lone hero; rather as a soldier in a mighty struggle for the universal reform of Christianity and its role in the world. The foundation of Protestantism changed the religious landscape of Europe, and subsequently the world, but the author chooses to show Luther not simply as a reformer, but as an individual.
In this study of the Wittenberg monk, Heinz Schilling—one of Germany's leading social and political historians—gives the reader a rounded view of a difficult, contradictory character, who changed the world by virtue of his immense will.
Additional New Titles
• The Orphan Keeper by Camron Wright
• Beach House for Rent by Mary Alice Monroe
• Every Child Needs a Praying Mom by Fern Nichols
<p style="text-align: center"><span style="color: #3594bc; font-family: Arial,Helvetica,sans-serif; text-align: center; font-size: 16px; margin-bottom: 0px; margin-top: 0px;"><b>Be Notified When <i>The Intercom </i>Is Updated!</b></span></p><br><!-- BEGIN: Constant Contact Email List Form Button --><div align="center"><a href="http://visitor.r20.constantcontact.com/d.jsp?llr=cgxs7srab&p=oi&m=1118399192258&sit=5itf56ajb&f=367e76f6-0208-4b67-b32c-a3d9f409786c" class="button" style="background-color: rgb(0, 0, 144); border: 1px solid rgb(91, 91, 91); color: rgb(255, 255, 255); display: inline-block; padding: 8px 10px; text-shadow: none; border-radius: 10px;">Sign Up for The Intercom</a><!-- BEGIN: Email Marketing you can trust --><div id="ctct_button_footer" style="font-family:Arial,Helvetica,sans-serif;font-size:10px;color:#999999;margin-top: 10px;" align="center">For Email Marketing you can trust.</div></div>