Monthly Book Club for Adults
The Book Club for Adults meets at 7:00 p.m. on the fourth Thursday of each month in the OSL Library to discuss that month's novel. The July 27 selection will be The Rent Collector by Camron Wright.
Survival for Ki Lim and Sang Ly is a daily battle at Stung Meanchey, the largest municipal waste dump in all of Cambodia. They make their living scavenging recyclables from the trash. Life would be hard enough without the worry for their chronically ill child, Nisay, and the added expense of medicines that are not working. Just when things seem worst, Sang Ly learns a secret about the ill-tempered rent collector who comes demanding money—a secret that sets in motion a tide that will change the life of everyone it sweeps past. The Rent Collector is a story of hope, of one woman's journey to save her son, and another woman's chance at redemption. It demonstrates that even in a dump in Cambodia—perhaps especially in a dump in Cambodia—everyone deserves a second chance.
Join this exciting community of readers! A list of the monthly selections is available in the Library.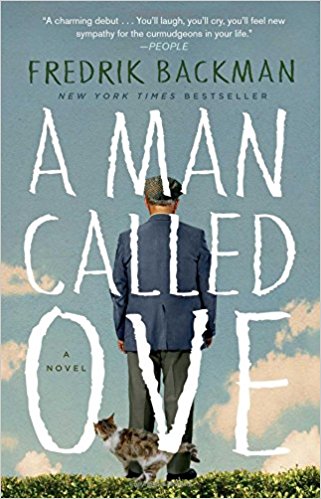 One Church One Read
Stop in the OSL Library, check out a copy of A Man Called Ove by Fredrick Bachman, and join the Library's fall One Church One Read discussion on September 24, at 10:00 a.m., in the Friendship Room.
Ove is a curmudgeon—the kind of man who points at people he dislikes as if they were burglars caught outside his bedroom window. He has staunch principles, strict routines, and a short fuse. People call him "the bitter neighbor" but must Ove be considered bitter just because he doesn't walk around with a smile plastered to his face all the time?
Behind the cranky exterior there is a story and a sadness. One November morning a chatty young couple with two chatty young daughters move in next door and accidentally flatten Ove's mailbox. It is the lead-in to a comical and heartwarming tale of unkempt cats, unexpected friendship, and the ancient art of backing up a U-Haul—all of which will change one cranky old man and a local residents' association to their very foundations. A feel-good story in the spirit of The Unlikely Pilgrimage of Harold Fry and Major Pettigrew's Last Stand, Fredrik Backman's novel about the angry old man next door is a thoughtful exploration of the profound impact one life has on countless others.
Library Hours
Sunday 8:15 a.m.–12:00 p.m.
Monday 9:00 a.m.–noon
Tuesday 9:00 a.m.–noon
Wednesday 9:00 a.m.–3:00 p.m.
Thursday 9:00 a.m.–noon
Friday Closed
2nd Saturday of the month 10:00 a.m.–noon and 4:30–6:30 p.m.
Summer Reading Program
To encourage the OSL community to read and "Make the World a Better Place," the OSL Library is sponsoring a summer reading program for children, Build a Better World, from June 4 through August 13. Each day they check out items, children through high-school youth will receive a treat and may submit their checkout receipt in a weekly drawing for a $5 prize.
In addition, children may compete in a contest to determine who reads the most books during the ten-week program. Library staff will track children's progress by building a domino city landscape on the bulletin board inside the Library. Library workers will use dominos to create a skyscraper for each child and place one dot on the dominos for each book they read. At the end of the ten weeks, the two children/youth who have read the most books will receive a grand prize.
Reading Program to Live Out Theme
Children involved in the Build a Better World summer reading program, their parents, and Library Committee members are encouraged to participate in the Library's community service project, Serve Sioux Falls: 60 Days to Unite a City. (Empower Sioux Falls, LifeLight, and Volunteers of America have partnered to create Serve Sioux Falls, which replaces LifeLight and will take place from July 4 through September 4. Learn more at servesiouxfalls.com.)
The OSL Library's Serve Sioux Falls project, Red Door: Laundry Love, will take place on Saturday, July 15, at Northwest Laundry, 330 N. West Avenue at Sixth Street, from 8:00 a.m. to noon. OSL participants will offer free laundry services (quarters, detergent, laundry bags, and kids activities) and initiate relationships with customers.
Serve Sioux Falls: 60 Days of Service will culminate with CityFest, on August 26 and 27, at Canaries Stadium. The event will include a main stage with local and multicultural speakers and Christian music artists. CityFest will honor business leaders and employees for service, as well as church, government, law enforcement, and fire rescue workers for their service to the community. There also will be children, youth, and family activities—all to celebrate what God is doing in Sioux Falls!
New Books for Adults
Hidden Figures by Margot Lee Shetterly is the phenomenal true story of the black female mathematicians at NASA whose calculations helped fuel some of America's greatest achievements in space.
Before John Glenn orbited the earth or Neil Armstrong walked on the moon, a group of dedicated women mathematicians known as "human computers" used pencils, slide rules, and adding machines to calculate the numbers that would launch rockets and astronauts into space.
Among these problem-solvers was a group of exceptionally talented African-American women, some of the brightest minds of their generation. Originally relegated to teaching math in the South's segregated public schools, they were called into service during the labor shortages of World War II, when America's aeronautics industry was in dire need of anyone who had the right stuff.
Starting in World War II and moving through to the Cold War, the Civil Rights Movement, and the Space Race, Hidden Figures follows the interwoven accounts of Dorothy Vaughan, Mary Jackson, Katherine Johnson, and Christine Darden, four African-American women who participated in some of NASA's greatest successes. It chronicles their careers over nearly three decades, during which they faced challenges, forged alliances, and used their intellect to change their own lives and their country's future.
Additional New Titles
• The Broken Road by Richard Paul Evans
• Camino Island by John Grisham
• How Many People Does It Take to Make a Difference? by Dan Zadra and Kobi Yamada
• The More of Less by Joshua Becker
New for Middle- and High-School Youth
Restart by Gordon Korman. Chase's memory just went out the window. Chase doesn't remember falling off the roof. He doesn't remember hitting his head. He doesn't remember anything. He wakes up in a hospital room and suddenly has to learn his whole life all over again…starting with his own name.
He knows he's Chase, but who is Chase? When he gets back to school, he sees that different kids have very different reactions to his return. Some kids treat him like a hero. Some kids are clearly afraid of him. One girl in particular is so angry with him that she pours her frozen yogurt on his head the first chance she gets. Pretty soon, it's not only a question of who Chase is—it's a question of who he was…and who he's going to be.
From the bestselling author of Swindle and Slacker, Restart is the spectacular story of a kid with a messy past who has to figure out what it means to get a clean start.
Additional New Titles
• Big Game by Stuart Gibbs
• The Wimpy Kid Movie Diary: The Next Chapter by Jeff Kinney
• The Trials of Apollo by Rick Riordan
• Heroes of Olympus: The Lost Hero graphic novel by Rick Riordan
New Picture, Chapter Books,
and Early Readers
Who Is Sonia Sotomayor? by Megan Stine. Outspoken, energetic, and fun, Sonia Sotomayor has managed to turn every struggle in life into a triumph. Born in the Bronx to immigrant parents from Puerto Rico, Sonia found out at age nine that she had diabetes, a serious illness now but an even more dangerous one 50 years ago.
How did young Sonia handle the devastating news? She learned to give herself her daily insulin shots and became determined to make the most out of her life. It was the popular 1960s TV series Perry Mason that made Sonia want to become a lawyer—and not only a lawyer, but a judge.
Her remarkable career was capped in 2009 when President Barack Obama nominated her to the Supreme Court, the first Hispanic justice and only the third woman in the court's history. Stories of Sotomayor's career are hardly dry legal stuff. She once hopped on a motorcycle to chase down counterfeiters and was the judge whose ruling ended the Major League baseball strike in 1995.
Additional New Chapter Books
• Haggis and Tank Unleashed by Jessica Young
• Owl Diaries: Baxter Is Missing by Rebecca Elliott
New Early Readers
• I Am Lost by Hans Wilhelm
• The World of Dinosaurs by Kathryn Knight
New Picture Books
• Boom Chicka Rock by John Archambault
• City on the Hill by Mark Hall and Matthew West
<p style="text-align: center"><span style="color: #3594bc; font-family: Arial,Helvetica,sans-serif; text-align: center; font-size: 16px; margin-bottom: 0px; margin-top: 0px;"><b>Be Notified When <i>The Intercom </i>Is Updated!</b></span></p><br><!-- BEGIN: Constant Contact Email List Form Button --><div align="center"><a href="http://visitor.r20.constantcontact.com/d.jsp?llr=cgxs7srab&p=oi&m=1118399192258&sit=5itf56ajb&f=367e76f6-0208-4b67-b32c-a3d9f409786c" class="button" style="background-color: rgb(0, 0, 144); border: 1px solid rgb(91, 91, 91); color: rgb(255, 255, 255); display: inline-block; padding: 8px 10px; text-shadow: none; border-radius: 10px;">Sign Up for The Intercom</a><!-- BEGIN: Email Marketing you can trust --><div id="ctct_button_footer" style="font-family:Arial,Helvetica,sans-serif;font-size:10px;color:#999999;margin-top: 10px;" align="center">For Email Marketing you can trust.</div></div>