Monthly Book Club for Adults
The Book Club for Adults meets at 7:00 p.m. on the fourth Thursday of each month in the OSL Library to discuss that month's novel. The September 28 selection will be Born a Crime by Trevor Noah.
Noah's unlikely path from apartheid South Africa to the desk of The Daily Show began with a criminal act: his birth. Trevor was born to a white Swiss father and a black Xhosa mother at a time when such a union was punishable by five years in prison. Living proof of his parents' indiscretion, Trevor was kept mostly indoors for the earliest years of his life, bound by the extreme and often absurd measures his mother took to hide him from a government that could, at any moment, steal him away. Finally liberated by the end of South Africa's tyrannical white rule, Trevor and his mother set forth on a grand adventure, living openly and freely and embracing the opportunities won by a centuries-long struggle.
Born a Crime is the story of a mischievous young boy who grows into a restless young man as he struggles to find himself in a world where he was never supposed to exist. It is also the story of that young man's relationship with his fearless, rebellious, and fervently religious mother.
The stories collected here are by turns hilarious, dramatic, and deeply affecting. Noah's stories weave together to form a moving and searingly funny portrait of a boy making his way through a damaged world in a dangerous time, armed only with a keen sense of humor and a mother's unconventional, unconditional love.
Join this exciting community of readers! A list of the 2017 selections is available in the OSL Library.
Intergenerational Reading Program Begins in September
Children, youth, and adults are invited to participate in Stick Together, the OSL Library's fall intergenerational reading program, beginning on September 10. Each day you check out items, you will receive a treat and a colored sticker to add to the "Stick Together with God, Family, and Friends" mosaic, which will reveal one of God's blessings in our lives.
Library Hours
Sunday 8:15 a.m.–12:15 p.m.
Monday 9:00 a.m.–noon
Tuesday 9:00 a.m.–noon
Wednesday 9:00 a.m.–7:30 p.m.
Thursday 9:00 a.m.–noon
Friday Closed
2nd Saturday of the month 10:00 a.m.–noon and 4:30–6:30 p.m.
The Shack—Book and Movie
To help OSL members prepare for the upcoming three-week fall series based on The Shack (beginning the weekend of September 16–17; see Pr. Randy's column on page 1 for more information), the OSL Library has multiple copies of the book available for check-out, and has scheduled free showings of the movie, in the HolyWord Theatre, on these dates:
• Sunday, September 10, at 12:30 p.m. A pizza and salad lunch will be served for those who RSVP to the Library prior to noon on Thursday, September 7.
• Wednesday, September 13, at 6:00 p.m.
• Saturday, September 16, at 2:30 p.m.
Popcorn will be served at all showings.
Fall Book Sale Is Coming Up
The OSL Library will be accepting books, movie DVDs, and music CD through October 18 for its annual fall book sale. The sale will run from noon to 6:30 p.m. on Saturday, October 21, and from 8:30 a.m. to 12:30 p.m. on Sunday, October 22, in the Friendship Room.
A large selection of children's and adult fiction and nonfiction books will be for sale, along with music CDs and movie DVDs. A donation of $2 for books for adults and $1 for children's books and each CD or DVD is suggested.
Mark your calendar now for the fall book sale, October 21 and 22!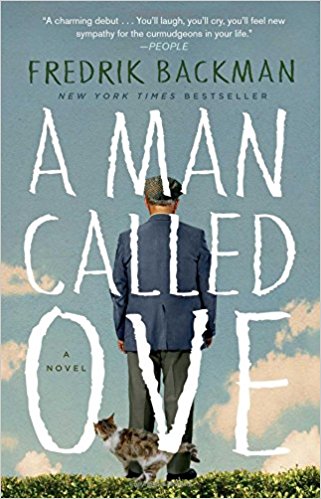 One Church One Read…and One Movie, Too!
Stop in the OSL Library, check out a copy of A Man Called Ove by Fredrik Backman, and join the Library's fall One Church One Read discussion on September 24, at 10:00 a.m., in the Friendship Room.
In addition, the movie A Man Called Ove will be screened after the discussion, at 12:30 p.m. A pizza and salad lunch will be served for those who RSVP to the Library for the movie by noon on September 21.
Ove is a curmudgeon—the kind of man who points at people he dislikes as if they were burglars caught outside his bedroom window. He has staunch principles, strict routines, and a short fuse. People call him "the bitter neighbor," but must Ove be considered bitter just because he doesn't walk around with a smile plastered to his face all the time?
Behind the cranky exterior there is a story and a sadness. One November morning a chatty young couple with two chatty young daughters move in next door and accidentally flatten Ove's mailbox. It is the lead-in to a comical and heartwarming tale of unkempt cats, unexpected friendship, and the ancient art of backing up a U-Haul—all of which will change one cranky old man and a local residents' association to their very foundations. A feel-good story in the spirit of The Unlikely Pilgrimage of Harold Fry and Major Pettigrew's Last Stand, Fredrik Backman's novel about the angry old man next door is a thoughtful exploration of the profound impact one life has on countless others.
New Books for Adults
Red by Joy Ohagwu. Gripped by shock at the sight of a presumed routine package delivery run, businesswoman and entrepreneur Ruby "Red" Masters just saw a woman die, and she discovered The New Rulebook, something she knew nothing about. However, it knew everything about her, enough to frame her for murder.
As the clock ticks, Ruby calls on the one person she trusts: Robert Towers, her best friend and apolice officer. Robert will find a way out. He always has. As they race against time and beyond the reach of an unknown enemy, Ruby didn't count on Robert falling in love with her and turning Christian.
Robert's unrelenting grip on his newfound faith irritates Ruby until she's captured behind enemy lines. When all human effort fails her, will she find that what she needed was right there all along, or will she rebuff the love of the God she doesn't see and that of the man she'd always known as simply a friend?
Red is the first book in The New Rulebook Christian Suspense Series, a bestselling series in Christian Romantic Suspense.
Additional New Titles
• When God Speaks by Squire Russell
• The Identicals by Erin Hilderbrand
• Rise and Shine, Benedict Stone by Phaedra Patrick
New for Middle- and High-School Youth
Girl in the Blue Coat by Monica Hesse. Amsterdam, 1943. Hanneke spends her days procuring and delivering sought-after black-market goods to paying customers, her nights hiding the true nature of her work from her concerned parents, and every waking moment mourning her boyfriend, who was killed on the Dutch front lines when the German army invaded. She likes to think of her illegal work as a small act of rebellion.
On a routine delivery, a client asks Hanneke for help. Expecting to hear that Mrs. Janssen wants meat or kerosene, Hanneke is shocked by the older woman's frantic plea to find a person—a Jewish teenager Mrs. Janssen had been hiding, who has vanished without a trace from a secret room.
Hanneke initially wants nothing to do with such dangerous work, but is ultimately drawn into a web of mysteries and stunning revelations that lead her into the heart of the resistance, open her eyes to the horrors of the Nazi war machine, and compel her to take desperate action.
Beautifully written, intricately plotted, and meticulously researched, Girl in the Blue Coat is an extraordinary, gripping novel about bravery, grief, and love in impossible times.
Additional New Titles
• The Apple Tart of Hope by Sarah Moore Fitzgerald
• Every Falling Star by Sungju Lee
• We Were Liars by E. Lockhart
New Picture, Early Reader, and Chapter Books,
Leila and Nugget Mystery: Who Stole Mr. T? by Deserae and Dustin Brady. For fans of Nancy Drew and Nate the Great, Who Stole Mr. T? introduces a brand-new detective duo, Leila and Nugget. Third-grader Leila Beal and her dog, Nugget, are all set to enjoy their snow day—that is, until a neighborhood pet turtle goes missing.
Now they've got to solve the mystery before the turtlenapper strikes again. Could it be Weirdy Beardy, the construction worker? Maybe it's the crabby old neighbor lady. Or maybe, just maybe, it was an inside job. Who Stole Mr. T? will keep young readers guessing until the last page.
Additional New Chapter Books
• The Notebook of Doom: March of the Vanderpants by Troy Cummings
• The Critter Club: Amy and the Missing Puppy by Callie Barkley
New Early Readers
• Lego City: Lego City Emergency produced by Scholastic
• Bake, Mice, Bake! by Eric Seltzer
New Picture Books
• Picture Word Bible Stories retold by Mary E. Erickson
• Touch the Brightest Star by Christie Matheson
<p style="text-align: center"><span style="color: #3594bc; font-family: Arial,Helvetica,sans-serif; text-align: center; font-size: 16px; margin-bottom: 0px; margin-top: 0px;"><b>Be Notified When <i>The Intercom </i>Is Updated!</b></span></p><br><!-- BEGIN: Constant Contact Email List Form Button --><div align="center"><a href="http://visitor.r20.constantcontact.com/d.jsp?llr=cgxs7srab&p=oi&m=1118399192258&sit=5itf56ajb&f=367e76f6-0208-4b67-b32c-a3d9f409786c" class="button" style="background-color: rgb(0, 0, 144); border: 1px solid rgb(91, 91, 91); color: rgb(255, 255, 255); display: inline-block; padding: 8px 10px; text-shadow: none; border-radius: 10px;">Sign Up for The Intercom</a><!-- BEGIN: Email Marketing you can trust --><div id="ctct_button_footer" style="font-family:Arial,Helvetica,sans-serif;font-size:10px;color:#999999;margin-top: 10px;" align="center">For Email Marketing you can trust.</div></div>