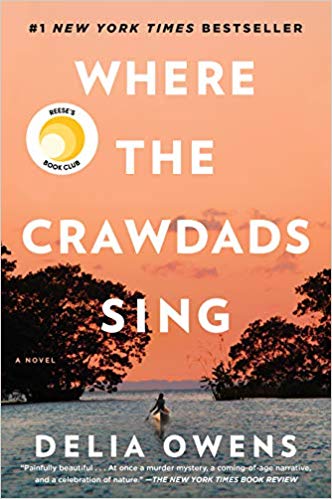 Summer One Church One Read
The Library Committee has selected Where the Crawdads Sing by Delia Owens as its Summer One Church One Read title. Eleven copies will be available for checkout in the Library on June 2. The discussion is scheduled for 10:00 a.m. on September 22.
For years, rumors of the "Marsh Girl" have haunted Barkley Cove, a quiet town on the North Carolina coast. In late 1969, when handsome Chase Andrews is found dead, the locals immediately suspect Kya Clark, the so-called Marsh Girl.
Sensitive and intelligent, Kya has survived for years alone in the marsh that she calls home, finding friends in the gulls and lessons in the sand. But the time comes when she yearns to be touched and loved. When two young men from town become intrigued by her wild beauty, Kya opens herself to a new life until the unthinkable happens.
Where the Crawdads Sing is an exquisite ode to the natural world, a heartbreaking coming-of-age story, and a surprising tale of possible murder. Owens reminds us that we are forever shaped by the children we once were, and that we are all subject to the beautiful and violent secrets that nature keeps.
Monthly Book Club for Adults
The Book Club for Adults meets at 7:00 p.m. on the fourth Thursday of each month in the OSL Library to discuss that month's book. The August 22 selection will be Milkman by Anna Burns.
In an unnamed city, middle sister stands out for the wrong reasons. She reads while walking, for one, and she has been taking French night classes downtown.
When a local paramilitary known as the Milkman begins pursuing her, she suddenly becomes "interesting," the last thing she ever wanted to be. Despite middle sister's attempts to avoid him—and to keep her mother from finding out about her maybe-boyfriend—rumors spread and the threat of violence lingers.
Milkman is a story of the way inaction can have enormous repercussions, in a time when the wrong flag, wrong religion, or even a sunset can be subversive. Told with ferocious energy and sly, wicked humor, Milkman establishes Anna Burns as one of the most consequential voices of our day.
Join this exciting community of readers! A list of 2019 selections is available in the OSL Library.
Second Saturday Movie Is on Summer Vacation!
The Second Saturday Movies are on break, but will return in September with Breakthrough.
When Joyce Smith's 14-year-old son John fell through an icy Missouri lake one winter morning, she and her family had seemingly lost everything. At the hospital, John lay lifeless for more than 60 minutes, but Joyce was not ready to give up on her son. She mustered all her faith and strength into one force and cried out to God in a loud voice to save him.
Miraculously, her son's heart immediately started beating again.
Breakthrough is about a profound truth: prayer really does work. God uses it to remind us that God is always with us, and when we combine it with unshakable faith, nothing is impossible.
Make a day of it on September 14, with the movie at 2:30 in the Holy Word Theatre, followed by worship at 5:00 in the Sanctuary, and dinner afterward in The Gathering Place!
New for Adults
Rooms by James L. Rubart. On a rainy spring day in Seattle, young software tycoon Micah Taylor receives a cryptic, 25-year-old letter from a great-uncle he never knew. It claims a home awaits him on the Oregon coast that will turn his world inside out.
Suspecting a prank, Micah arrives at Cannon Beach to discover a stunning brand new 9,000 square-foot house. After meeting Sarah Sabin at a nearby ice-cream shop, he has two reasons to visit the beach every weekend.
When bizarre things start happening in the rooms of the home, Micah suspects they have some connection to his new friend, Rick, the town mechanic. Rick will only say the house is spiritual.
This unnerves Micah because his faith slipped away like the tide years ago, and he wants to keep it that way. But as he slowly discovers, the home isn't just spiritual, it's a physical manifestation of his soul, which God uses to heal Micah's darkest wounds and lead him into an astonishing new destiny.
Additional New Titles for Adults
• The Printed Letter Bookshop by Katherine Reay
• Summer of '69 by Erin Hilderbrand
• The Man He Never Was by James L. Rubart
New for Middle- and High-School Youth
Theodore Boone: The Accomplice by John Grisham. Theo has been worried about his good friend Woody Lambert. Woody is struggling at school and making bad choices. When Woody is arrested—an unwitting accomplice to armed robbery—Theo knows he is innocent.
Racing the clock while Woody sits in jail, Theo will do everything in his power to help his friend and save Woody from an unforgiving system where justice is not equal for all. Brimming with the intrigue and suspense that made John Grisham an international bestselling author and undisputed master of the modern legal thriller, Theodore Boone's trials and triumphs will keep readers hooked until the very last page.
Additional New Titles for
Middle- and High-School
• The 104-Story Treehouse by Andy Griffiths
• Endling: The First by Katherine Applegate
• Shouting at the Rain by Lynda Mullaly Hunt
Library Hours
Sunday 8:30 a.m.–noon
Monday 9:00 a.m.–noon
Tuesday 9:00 a.m.–noon
Wednesday 9:00 a.m.–3:00 p.m.
Thursday 9:00 a.m.–noon
Friday Closed
2nd Saturday of the month 10:00 a.m.–noon and 4:30–6:30 p.m.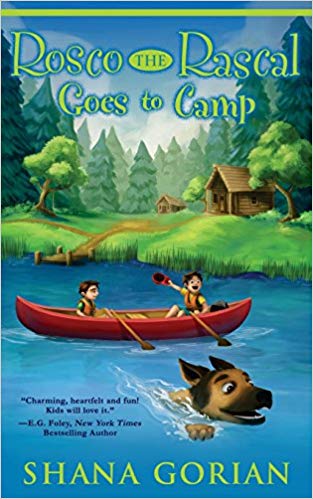 New Picture, Early Reader, and Chapter Books
Roscoe the Rascal Goes to Camp by Shana Gorian. Ten-year-old James and his seven-year-old sister, Mandy, are off to summer camp with their loyal German shepherd, Rosco. While Mandy struggles with homesickness, James's week is threatened by a prank-playing bunkmate's antics.
During an unexpected thunderstorm in a game of capture the flag, the prankster finds himself lost and alone deep inside the forest. Rosco must play the hero and save the boy, but not before he and James teach him a hard-earned lesson about friendship.
Additional New Chapter Books
• Zoey and Sassafras: Unicorns and Germs by
Asia Citro
• Eerie Elementary: The End of Orson Eerie? by
Jack Chabert
New Early Reader Books
• Fancy Nancy: Potpourri of Books by
Jane O'Connor
• Henry and Mudge Take the Big Test by
Cynthia Rylant
New Picture Books
• Even Superheroes Have Bad Days by
Shelly Becker
• Forever Friends Club by Gaurav Bhatnagar