"A Universe of Stories" Summer Reading Program
The OSL Library's summer reading program, "A Universe of Stories," will run from June 2 through August 4. Each day they check out items, children, youth (through high school), and adults will receive a treat.
In addition, the one who reads the most book in each age group during the program will receive a $15 gift card. Throughout the program, the Library will track and display the number of books each patron reads on stars on the "universe" bulletin board in the center of the Library.
Monthly Book Club for Adults
The Book Club for Adults meets at 7:00 p.m. on the fourth Thursday of each month in the OSL Library to discuss that month's book. The May 23 selection will be Last Bus to Wisdom by Ivan Doig.
Donal Cameron is being raised by his grandmother, the cook at the legendary Double W ranch in the Montana Rockies, a landscape that gives full rein to an 11-year-old's imagination. When Gram has to have surgery for "female trouble" in the summer of 1951, she sends Donal off to her sister in faraway Manitowoc, Wisconsin.
There Donal is in for a rude surprise: Aunt Kate—bossy, opinionated, argumentative, and tyrannical—is nothing like her sister. She henpecks her good-natured husband, Herman the German, and Donal can't seem to get on her good side either. After one contretemps too many, Kate packs him back to the authorities in Montana on the next Greyhound.
As it turns out, Donal isn't traveling solo: Herman the German has decided to fly the coop with him. In the immortal American tradition, the pair light out for the territory together, meeting a classic Doigian ensemble of characters and having rollicking misadventures along the way.
Join this exciting community of readers! A list of 2019 selections is available in the OSL Library.
Second Saturday Movie
This month's feature, on May 11, will be Unbroken: Path to Redemption. The story begins where the April movie, Unbroken, concluded, bringing the rest of Louis Zamperini's inspirational true story to life. After surviving years of torture as a prisoner of war, Louis (Samuel Hunt) returns home from World War II, where he meets and marries Cynthia (Merritt Patterson). Haunted by his past, he is driven deep into despair. When Cynthia turns to God at the 1949 Billy Graham Crusade, her most fervent prayer for Louis is to find peace and forgiveness.
Make a day of it with the movie at 2:30 in the Holy Word Theatre, followed by worship at 5:00 in the Sanctuary, and dinner afterward in The Gathering Place!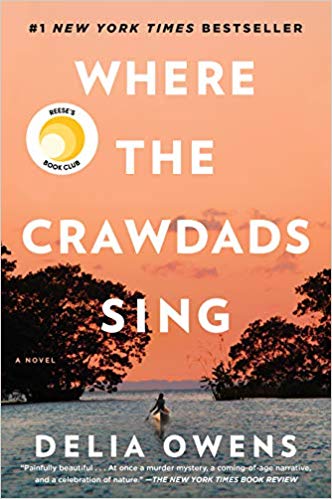 Summer One Church One Read
The Library Committee has selected Where the Crawdads Sing by Delia Owens as its Summer One Church One Read title. Eleven copies will be available for checkout in the Library on June 2. The discussion is scheduled for 10:00 a.m. on September 22.
For years, rumors of the "Marsh Girl" have haunted Barkley Cove, a quiet town on the North Carolina coast. In late 1969, when handsome Chase Andrews is found dead, the locals immediately suspect Kya Clark, the so-called Marsh Girl.
Sensitive and intelligent, Kya has survived for years alone in the marsh that she calls home, finding friends in the gulls and lessons in the sand. But the time comes when she yearns to be touched and loved. When two young men from town become intrigued by her wild beauty, Kya opens herself to a new life until the unthinkable happens.
Where the Crawdads Sing is an exquisite ode to the natural world, a heartbreaking coming-of-age story, and a surprising tale of possible murder. Owens reminds us that we are forever shaped by the children we once were, and that we are all subject to the beautiful and violent secrets that nature keeps.
Library Hours
Sunday 8:30 a.m.–12:15 p.m.
Monday 9:00 a.m.–noon
Tuesday 9:00 a.m.–noon
Wednesday (through May 8) 9:00 a.m.–7:30 p.m.
Wednesday (May 15–30) 9:00 a.m.–3:00 p.m.
Thursday 9:00 a.m.–noon
Friday Closed
2nd Saturday of the month 10:00 a.m.–noon and 4:30–6:30 p.m.
New for Adults
We Must Be Brave by Frances Liardet. One woman. One little girl. The war that changed everything. December 1940. In the disorderly evacuation of Southampton, England, newly married Ellen Parr finds a small child asleep on the backseat of an empty bus.
No one knows who little Pamela is. Ellen professed not to want children with her older husband, and when she takes Pamela into her home and rapidly into her heart, she discovers that this is true: Ellen doesn't want children. She wants only Pamela.
Three golden years pass as the Second World War rages on. Then one day Pamela is taken away, screaming. Ellen is no stranger to sorrow, but when she returns to the quiet village life she's long lived, she finds herself asking: In a world changed by war, is it fair to wish for an unchanged heart?
In the spirit of We Were the Lucky Ones and The Nightingale, this is a novel about courage and kindness, hardship and friendship, and the astonishing power of love.
Additional New Titles for Adults
• Two Weeks by Karen Kingsbury
• The Persian Gamble by Joel C. Rosenberg
• In Shock: My Journey from Death to Recovery and the Redemptive Power of Hope by Dr. Rana Awdish
New for Middle- and High-School Youth
The Book of Boy by Catherine Gilbert Murdock. Boy has always been relegated to the outskirts of his small village. With a hump on his back, a mysterious past, and a tendency to talk to animals, he is often mocked by others in his town, until the arrival of a shadowy pilgrim named Secondus. Impressed with Boy's climbing and jumping abilities, Secondus engages Boy as his servant, pulling him into an action-packed and suspenseful expedition across Europe to gather seven precious relics of St. Peter.
Boy quickly realizes this journey is not an innocent one. They are stealing the relics and accumulating dangerous enemies in the process. However, Boy is determined to see this pilgrimage through until the end—for what if St. Peter has the power to make him the same as the other boys?
Additional New Titles for Middle- and High-School
• Flush by Carl Hiasssen
• Willa of the Wood by Robert Beatty
• The School for Good and Evil: A Crystal of Time by Soman Chainani
New Picture, Early Reader, and Chapter Books
There's No Wrong Way to Pray by Rebecca Ninke. Prayers don't have to sound holy to be holy! Author Rebecca Ninke teamed up with her ten-year-old daughter for this reflection on the importance of prayer in everyday life—why to pray, when to pray, and how to pray. Sometimes funny, sometimes profound, and always honest, the result is a book that will inspire kids of all ages and reassure them that there's no wrong way to talk to God.
Additional New Picture Books
• A Sick Day for Amos McGee by Philip C. Stead
• Because I'm Your Dad by Ahmet Zappa
New Early Reader Books
• Casey and Peep's Home Run by John Nichols
• Super Heroes Collection: An I Can Read Book
New Chapter Books
• The Alien Moon: An Amazing Yeti Adventure by Alex Milway
• Ramona the Brave by Beverly Cleary