"Whoo Loves Books" Fall Reading Program
The OSL Library's fall reading program, "Whoo Loves Books," continues through November 24, for children, youth, and adults.
Each day you check out items, you will receive a treat. The first time you check out books during the reading program, your name will be displayed on the bulletin board, and you will be entered into a drawing for a prize. The winner of the prize will be announced in the bulletin announcements the weekend of December 1.
Monthly Book Club for Adults
The Book Club for Adults meets at 7:00 p.m. on the fourth Thursday of each month in the OSL Library to discuss that month's book. The November 21 selection will be Station Eleven by Emily St. John Mandel.
An audacious, darkly glittering novel set in the eerie days of civilization's collapse, Station Eleven tells the spellbinding story of a Hollywood star, his would-be savior, and a nomadic group of actors roaming the scattered outposts of the Great Lakes region, risking everything for art and humanity.
Kirsten Raymonde will never forget the night Arthur Leander, the famous Hollywood actor, had a heart attack on stage during a production of King Lear. That was the night when a devastating flu pandemic arrived in the city, and within weeks, civilization as we know it came to an end.
Twenty years later, Kirsten moves between the settlements of the altered world with a small troupe of actors and musicians. They call themselves The Traveling Symphony, and they have dedicated themselves to keeping the remnants of art and humanity alive. But when they arrive in St. Deborah by the Water, they encounter a violent prophet who will threaten the tiny band's existence. And as the story takes off, moving back and forth in time and vividly depicting life before and after the pandemic, the strange twist of fate that connects them all will be revealed.
Join this exciting community of readers! A list of 2019 selections is available in the OSL Library.
Second Saturday Movie
This month's Second Saturday Movie, on November 9, will be Heavenly Deposit.
After the devastating loss of his father as a young boy, Peter Ranos denies the presence of God in his life and decides to take matters into his own hands. Years later, Peter's life is riddled with problems, financial ruin, unemployment, and, ultimately, marital challenges.
In Peter's mind, all he needs is one big break to make things right, but every time a break is near, something happens to set him back even further. When Peter's world finally collapses around him, his despair awakens a divine experience and he can no longer deny the power of God. All he has to do is accept God's love and lean on a power greater than his own…but will he?
Make a day of it with the movie at 2:30 in the Holy Word Theatre, followed by worship at 5:00 in the Sanctuary, and dinner afterward in The Gathering Place!
Library Hours
Sunday 8:30 a.m.–12:15
Monday 9:00 a.m.–noon
Tuesday 9:00 a.m.–noon
Wednesday 9:00 a.m.–7:30 p.m.
Thursday 9:00 a.m.–noon
Friday Closed
2nd Saturday of the month 10:00 a.m.–noon and 4:30–6:30 p.m.
New for Adults
When We Believed in Mermaids by Barbara O'Neal. Her sister has been dead for 15 years when she sees her on the TV news. Josie Bianci was killed years ago on a train during a terrorist attack. Gone forever. It's what her sister, Kit, an ER doctor in Santa Cruz, has always believed.
Yet all it takes is a few heart-wrenching seconds to upend Kit's world. Live coverage of a club fire in Auckland has captured the image of a woman stumbling through the smoke and debris. Her resemblance to Josie is unbelievable and unmistakable. With it comes a flood of emotions—grief, loss, and anger—that Kit finally has a chance to put to rest: by finding the sister who's been living a lie.
After arriving in New Zealand, Kit begins her journey with the memories of the past—of days spent on the beach with Josie, of a lost teenage boy who'd become part of their family, and of a trauma that has haunted Kit and Josie their entire lives.
Now, if two sisters are to reunite, it can only be by unearthing long-buried secrets and facing a devastating truth that has kept them apart far too long. To regain their relationship, they may have to lose everything.
Additional New Titles for Adults
• The Next Person You Meet in Heaven by Mitch Albom
• Listening to Love by Beth Wiseman
• The Lacuna by Barbara Kingsolver
New for Middle- and High-School Youth
White Bird
by R. J. Palacio. In Palacio's bestselling collection of stories
Auggie & Me
, which expands on characters in
Wonder
, readers were introduced to Julian's grandmother, Grandmère. Here, Palacio makes her graphic novel debut with Grandmère's heartrending story: how she, a young Jewish girl, was hidden by a family in a Nazi-occupied French village during World War II; how the boy she and her classmates once shunned became her savior and best friend.
Sara's harrowing experience movingly demonstrates the power of kindness to change hearts, build bridge, and even save lives. As Grandmère tells Julian, "It always takes courage to be kind, but in those days, such kindness could cost you everything." With poignant symbolism and gorgeous artwork that brings Sara's story out of the past and cements it firmly in this moment in history, White Bird is sure to captivate anyone who was moved by the book Wonder or the blockbuster movie adaptation and its message.
Additional New Titles for
Middle- and High-School
• Soldier Dog by Sam Angus
• Guts by Raina Telgemeier
• Jacky Ha-Ha: My Life Is a Joke by James Patterson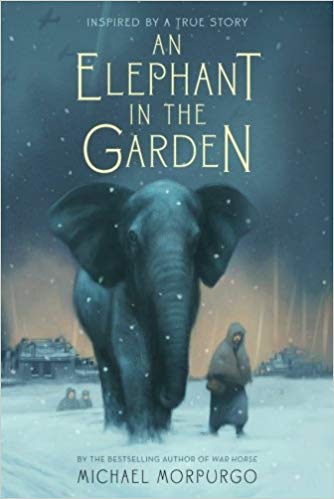 New Picture, Early Reader,
and Chapter Books
An Elephant in the Garden by Michael Morpurgo. Lizzie and Karl's mother is a zookeeper. The family has become attached to an orphaned elephant, Marlene, who will be destroyed as a precautionary measure so she and the other animals don't run wild should the zoo be hit by bombs.
The family persuades the zoo director to let Marlene stay in their garden instead. When the city is bombed, the family flees with thousands of others, but how can they walk the same route when they have an elephant in tow, and keep themselves safe? Along the way, they meet Peter, a Canadian navigator who risks his own capture to save the family.
As Michael Morpurgo writes in an author's note, An Elephant in the Garden is inspired by historical truths and by his admiration for elephants, "the noblest and wisest and most sensitive of all creatures." This is a story that brings together an unlikely group of survivors whose faith in kindness and love proves the best weapon of all.
Additional New Chapter Books
• Time Jumpers: Fast-forward to the Future by Wendy Mass
• Diary of a Pug: Pug Blasts Off by Kyla May
New Early Reader Books
• • Who Is the Mystery Reader? by Mo Williams
• The Long Dog by Eric Seltzer
New Picture Books
• The Scarecrow by Beth Ferry
• Don't Call Me Bear by Aaron Blabey