"Whoo Loves Books" Fall Reading Program
The OSL Library's fall reading program, "Whoo Loves Books," continues through November 24, for children, youth, and adults.
Each day you check out items, you will receive a treat. The first time you check out books during the reading program, your name will be displayed on the bulletin board, and you will be entered into a drawing for a prize. The winner of the prize will be announced in the bulletin announcements the weekend of December 1.
Monthly Book Club for Adults
The Book Club for Adults meets at 7:00 p.m. on the fourth Thursday of each month in the OSL Library to discuss that month's book. The October 24 selection will be The Extraordinary Life of Sam Hell by Robert Dugoni.
Sam Hill always saw the world through different eyes. Born with red pupils, he was called "Devil Boy" or "Sam Hell" by his classmates; "God's will" is what his mother called his ocular albinism. Her words were of little comfort, but Sam persevered, buoyed by his mother's devout faith, his father's practical wisdom, and his two other misfit friends.
Forty years later, Sam, a small-town eye doctor, is no longer certain anything was by design—especially not the tragedy that caused him to turn his back on his friends, his hometown, and the life he'd always known. Running from the pain, eyes closed, served little purpose. Now, as he looks back on his life, Sam embarks on a journey that will take him halfway around the world. This time, his eyes are wide open—bringing into clear view what changed him, defined him, and made him so afraid, until he can finally see what truly matters.
Join this exciting community of readers! A list of 2019 selections is available in the OSL Library.
Second Saturday Movie
This month's Second Saturday Movie, on October 12, will be The Least of These.
As the social fabric of life in rural India disintegrates in the late 1990s, journalist Manav Banerjee (Sharman Joshi) moves with his pregnant wife to the state of Orissa in hope of a better life and the promise of a lucrative career. When speculation mounts that local Australian missionary Graham Staines (Stephen Baldwin) is illegally proselytizing leprosy patients, Manav agrees to investigate undercover for the newspaper.
What he finds is a series of revelations that are difficult to fathom and even harder to explain, and Manav is forced to make a choice between his own ambition and the truth. In the end, his actions spark a tragic event that is felt around the world. Based on a true story and shot on location in India, The Least of These beautifully illustrates the power of love, hope and forgiveness to overcome hate.
Make a day of it with the movie at 2:30 in the Holy Word Theatre, followed by worship at 5:00 in the Sanctuary, and dinner afterward in The Gathering Place!
Fall Book Sale, October 19 and 20
Time to cull your collection of books, movie DVDs, and music CDs? The OSL Library is accepting those items through October 13 for its Fall Book Sale!
The book sale will run from 10:00 a.m. to 6:30 p.m. on Saturday, October 19, and from 8:30 a.m. to 12:30 p.m. on Sunday, October 20, in the Friendship Room. A large selection of children's and adult fiction and nonfiction books will be for sale, along with music CDs and movie DVDs.
Library Hours
Sunday 8:30 a.m.–12:15
Monday 9:00 a.m.–noon
Tuesday 9:00 a.m.–noon
Wednesday 9:00 a.m.–7:30 p.m.
Thursday 9:00 a.m.–noon
Friday Closed
2nd Saturday of the month 10:00 a.m.–noon and 4:30–6:30 p.m.
New for Adults
The Book of Dreams by Nina George.
Henri Skinner is a hardened ex-war reporter on the run from his past. On his way to see his son, Sam, for the first time in years, Henri steps into the road without looking and collides with oncoming traffic. He is rushed to a nearby hospital where he floats, comatose, between dreams, reliving the fairytales of his childhood and the secrets that made him run away in the first place.
After the accident, Sam—a 13-year-old synesthete with an IQ of 144 and an appetite for science fiction—waits by his father's bedside every day. There he meets Eddie Tomlin, a woman forced to confront her love for Henri after all these years, and 12-year old Madelyn Zeidler, a coma patient like Henri and the sole survivor of a traffic accident that killed her family. As these four very different individuals fight—for hope, for patience, for life—they are bound together inextricably, facing the ravages of loss and first love side by side.
A revelatory, urgently human story that examines what we consider serious and painful alongside light and whimsy, The Book of Dreams is a tender meditation on memory, liminality, and empathy, asking with grace and gravitas what we will truly find meaningful in our lives once we are gone.
Additional New Titles for Adults
• The Bible Tells Me So by Peter Enns
• Forty Autumns by Nina Willner
• The Girl Who Wrote in Silk by Kelli Estes
New for Middle- and High-School Youth
The Nocturnals: The Mysterious Abductions
by Tracey Hecht. In the first book of the critically acclaimed four-book middle-grade series The Nocturnals, we meet three unlikely friends—Dawn, a serious fox, Tobin, a sweet pangolin, and Bismark, the pint sized sugar glider. Discover the friendships, teamwork, and humor as the Nocturnal Brigade solves the unpredictable mysteries of the night.
Animals are disappearing without a trace, and it's up to Dawn, Tobin, and Bismark to find out the reason. With the help of a gentle wombat, a jittery jerboa, a band of coyotes, and some kooky bats, the Brigade journeys to the depths of the earth, where they find themselves in a wacky, high-stakes game that will determine all of their survival.
Additional New Titles for
Middle- and High-School
• The Pandora Device (Camp Hawthorne: Book One) by Joyce McPherson
• Dog Man: For Whom the Ball Rolls by Dav Pilkey
• Big Nate: Hug It Out! by Lincoln Peirce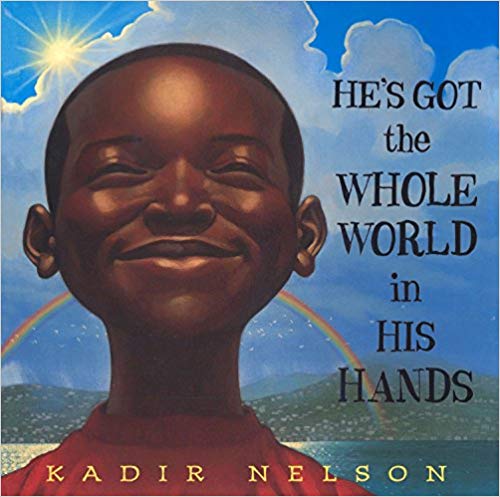 New Picture, Early Reader, and Chapter Books
He's Got the Whole World in His Hands by Kadir Nelson. What began as a spiritual has developed into one of America's best-known songs, and now for the first time it appears as a picture book, masterfully created by the award-winning artist Kadir Nelson. Through sublime landscapes and warm images of a boy and his family, Nelson has created a dazzling, intimate interpretation, one that rejoices in the connectedness of people and nature.
Inspired by the song's simple message, Nelson sought to capture the joy of living in and engaging with the world. Most important, he wished to portray the world as a child might see it—vast and beautiful.
Additional New Picture Books
• Brave by Stacy McAnulty
• I, Too, Am America by Langston Hughes
New Early Reader Books
• Ice Cream Soup by Ann Ingalls
• Iron Man by Marvel
New Chapter Books
• Dragon Masters: Land of the Spring Dragon by Troy Cummings
• Owl Diaries: Eva's Big Sleepover by Rebecca Elliott