"Whoo Loves Books" Fall Reading Program
The OSL Library's fall reading program, "Whoo Loves Books," will run from September 8 through November 24, for children, youth, and adults.
Each day you check out items, you will receive a treat. The first time you check out books during the reading program, your name will be displayed on the bulletin board, and you will be entered into a drawing for a prize. The winner of the prize will be announced in the bulletin announcements the weekend of December 1.
Here Comes Lu the Lion!
Lu the Lion will greet folks as they enter OSL on Sunday, September 15, and Wednesday, September 18, and hand out Pete the Cat stickers and bookmarks. Each child who checks out books will also receive a treat and a prize. Sponsored by the OSL Library, Lu will be here to encourage kids and youth to read and take advantage of everything the Library has to offer.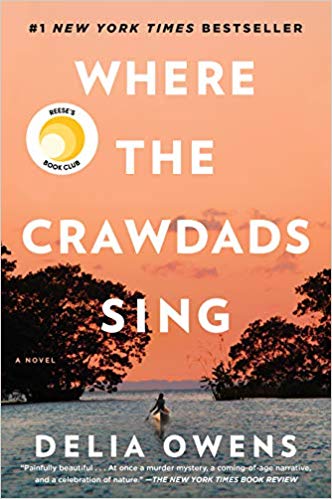 One Church One Read Book Discussion
Come for the discussion of Where the Crawdads Sing by Delia Owens, OSL's Summer One Church One Read title, on September 22 at 10:00 a.m., in the Library. If you haven't read Where the Crawdads Sing yet, copies are available in the Library, as well as an audiobook. You also may pick up a copy of the discussion questions in the Library.
For years, rumors of the "Marsh Girl" have haunted Barkley Cove, a quiet town on the North Carolina coast. In late 1969, when handsome Chase Andrews is found dead, the locals immediately suspect Kya Clark, the so-called Marsh Girl.
Where the Crawdads Sing is an exquisite ode to the natural world, a heartbreaking coming-of-age story, and a surprising tale of possible murder. Owens reminds us that we are forever shaped by the children we once were, and that we are all subject to the beautiful and violent secrets that nature keeps.
Fall Book Sale, October 19 and 20
Time to cull your collection of books, movie DVDs, and music CDs? The OSL Library will begin accepting those items on September 9 for its Fall Book Sale! Donations will be accepted through Sunday, October 13.
The book sale will run from 10:00 a.m. to 6:30 p.m. on Saturday, October 19, and from 8:30 a.m. to 12:30 p.m. on Sunday, October 20, in the Friendship Room. A large selection of children's and adult fiction and nonfiction books will be for sale, along with music CDs and movie DVDs.
Second Saturday Movies Are Back!
The Second Saturday Movies return from summer break on September 14, with Breakthrough.
When Joyce Smith's 14-year-old son John fell through an icy Missouri lake one winter morning, she and her family had seemingly lost everything. At the hospital, John lay lifeless for more than 60 minutes, but Joyce was not ready to give up on her son. She mustered all her faith and strength into one force and cried out to God in a loud voice to save him. Miraculously, her son's heart immediately started beating again.
Breakthrough is about a profound truth: prayer really does work. God uses it to remind us that God is always with us, and when we combine it with unshakable faith, nothing is impossible.
Make a day of it with the movie at 2:30 in the Holy Word Theatre, followed by worship at 5:00 in the Sanctuary, and dinner afterward in The Gathering Place!
Monthly Book Club for Adults
The Book Club for Adults meets at 7:00 p.m. on the fourth Thursday of each month in the OSL Library to discuss that month's book. The September 26 selection will be Americanah by Chimamanda Ngozi Adichie.
Ifemelu and Obinze are young and in love when they depart military-ruled Nigeria for the West. Beautiful, self-assured Ifemelu heads for America, where, despite her academic success, she is forced to grapple for the first time with what it means to be black.
Quiet, thoughtful Obinze had hoped to join her, but with post-9/11 America closed to him, he instead plunges into a dangerous, undocumented life in London. Fifteen years later, they reunite in a newly democratic Nigeria and reignite their passion for each other and for their homeland.
Join this exciting community of readers! A list of 2019 selections is available in the OSL Library.
Library Hours
Sunday 8:30 a.m.–12:15
Monday 9:00 a.m.–noon
Tuesday 9:00 a.m.–noon
Wednesday 9:00 a.m.–7:30 p.m.
Thursday 9:00 a.m.–noon
Friday Closed
2nd Saturday of the month 10:00 a.m.–noon and 4:30–6:30 p.m.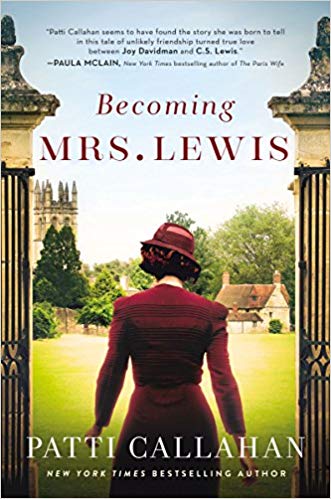 New for Adults
Becoming Mrs. Lewis by Patti Callahan. From New York Times bestselling author Patti Callahan comes an exquisite novel of Joy Davidman, the woman C. S. Lewis called "my whole world."
When poet and writer Joy Davidman began writing letters to C. S. Lewis—known as Jack—she was looking for spiritual answers, not love. Everything about New Yorker Joy seemed ill-matched for an Oxford don and the beloved writer of the Narnia books, yet their minds bonded over their letters. Embarking on the adventure of her life, Joy traveled from America to England and back again, facing heartbreak and poverty, finding friendship and faith and, against all odds, a love that even the threat of death couldn't destroy.
In this masterful exploration of one of the greatest love stories of modern times, we meet a brilliant writer, a fiercely independent mother, and a passionate woman who changed the life of this respected author and inspired books that still enchant us and change us. Joy lived at a time when women weren't meant to have a voice and yet her love for Jack gave them both voices they didn't know they had.
At once a fascinating historical novel and a glimpse into a writer's life, Becoming Mrs. Lewis is above all a love story—a love of literature and ideas and a love between a husband and wife.
Additional New Titles for Adults
• Evvie Drake Starts Over by Linda Holmes
• Things Left Unsaid by Courtney Walsh
• Window on the Bay by Debbie Macomber
New for Middle- and High-School Youth
A Dog's Porpoise
by M.C. Ross. When a bad storm throws Bangor, a harbor porpoise, off course, he finds himself all alone in the harbor of Ogunquit, Maine. He's not the only one who's lost in these wayward waters: Lars, a rowdy pup, is knocked overboard from a nearby boat. With the help of a girl named Natalie, Bangor rescues Lars, and they become fast friends.
Not everyone in the small town approves of this unlikely friendship. Some find Lars a nuisance to the community, and it isn't safe for Bangor to remain in the harbor. It's up to Natalie to convince the town to locate Bangor's pod and return him safely home, even if it means saying goodbye to her new friend.
Full of humor and heart, A Dog's Porpoise asks readers to consider what it means to be a good friend, especially during tough times.
Additional New Titles for
Middle- and High-School
• Kingdom Keepers: Disney after Dark by Ridley Pearson
• Click by Kayla Miller
• Enter the Mine by PopularMMOs
New Picture, Early Reader, and Chapter Books
Dragons from Mars Go to School by Deborah Aronson. The dragons from Mars are headed to school. But when Molly and Fred arrive at the classroom door, they realize life at school might come with some challenges.
Will Nathaniel's larger-than-most pals fit in with the rest of his class? This Seussian tale about dragons who settle
on Earth to join their human friend at school is a pure delight.
Additional New Picture Books
• Piranhas Don't Eat Bananas by Aaron Blabey
• The HICCUPotamus by Aaron Zenz
New Early Reader Books
• A Skunk in My Bunk by Christopher Cerf
• Have You Seen My Dinosaur by Jon Surgal
New Chapter Books
• The Binder of Doom: Brute-Cake by Troy Cummings
• Wild Rescuers: Guardians of the Taiga by Stacy Plays