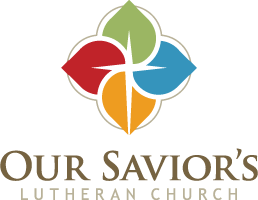 OSL Responds to COVID-19
Pastoral Letter #36
Week of 17 February 2021
Dear Our Savior's,
Today the journey of Lent begins. For the next 40 days, we will walk together along the way that leads to the cross of Good Friday and eventually the empty tomb of Easter morning. We'll be reminded both of the certainty of God's promises to us and of how we struggle mightily to remain faithful to God. Our life together will be shaped by worship, so we look forward to seeing you in church, in person or through the miracle of technology.
Lenten Details
As we share details with you about this Lenten season, we begin with a huge Thank you to Gary Gaede for the artwork he has created for our worship life during Lent. When you see Gary, be sure to offer your own words of gratitude.
Second, if you're reading this prior to Ash Wednesday worship, please note that we will gather for in-person worship today both at noon and at 6:30 p.m. in the Sanctuary. This worship service will include the Imposition of Ashes adapted to fit within our pandemic protocols. In addition, the 6:30 service will be live-streamed on our Facebook page.
Third, in-person midweek Lenten worship will be held on Wednesdays, February 24 through March 24, at 6:30 p.m., in the Sanctuary. These worship services will be approximately 30 minutes in length, simple in structure, and centered on the psalms appointed for the previous Sundays. Together we will consider and even lament how we so easily fall away from the relationship God forms with us, ignoring the investment of love God daily extends to us and forging ahead with our own ideas of what we think is best. Obviously this results in a broken relationship with God, but it also very often destroys our relationships with each other and with creation. Together we will seek God's mercy, ask for God's forgiveness, and envision how we might live more faithfully as God's beloved.
Fourth, we will also premiere a recorded version of these midweek services each Wednesday at 6:30 p.m. on our Facebook page and at oslchurch.com. If you can't watch the premiere, you will be able to access the video whenever it's convenient to you.
Finally, Lent is often a season when we choose to adopt a devotional discipline. If you want to browse some options, call the Church Office or explore our website (oslchurch.com) to check out the small buffet of resources we've assembled for you. We've also scheduled a weekly email devotional that will be sent each Sunday. We hope these will be helpful tools to you as you respond to the Lenten call, "Return to the Lord, your God, for [God] is gracious and merciful, slow to anger, and abounding in steadfast love." (Joel 2:13)
Review of COVID-19 Protocols
At their February meeting, the Governing Board will be reviewing our pandemic protocols, which have been in place since last summer and have contributed to creating a relatively safe environment for in-person activities here at the church. As infection and hospitalization rates continue to decline locally and as vaccines are being administered more broadly, it is appropriate to consider if the time is right to relax any of our safety measures. When that time comes, we will communicate clearly what the new guidelines for gathering will be, but until then our current protocols remain in place:
• masks are required for all indoor group activities;
• no unison speaking or singing during worship;
• keep six feet between yourself and others who are not part of your household;
• wash your hands regularly and use hand sanitizer; and
• stay home if you don't feel well.
An Opportunity to Serve
A couple weeks ago we heard from Jeff Sheets, the principal at Susan B. Anthony Elementary School (SBA), about all the remarkable work this congregation has done to support the students and staff. This week we've taken over $2,000 to SBA, a gift from the staff and ministries of the congregation that will enable teachers to give books to every single student at the school.
Now we want to invite a few of you into another opportunity. We're looking for a small number of people to personally support and connect one-on-one with a few of the teachers at SBA. If you're interested, we'll match you with a teacher you can love and support. Spaces are limited. Contact the Church Office if you're feeling called to serve in this way.
Our Ministry of Prayer
Finally, our Lenten disciplines include intercessory prayer. Please join us as we pray for healing this week for Owen Shay and Deb Ver Steeg; for comfort for those who are grieving, especially Arlyn and Jeanine Thomas and family upon the death of their daughter Lisa; for Bernadine Lindberg and Daniel, Mary and Christopher Loge as they mourn the death of Ardis Loge; and for the family and friends of Patricia Nicholson; and for Abram Roth Jeremiason, who was baptized at OSL last weekend, and his parents, Jason and Kristina Jeremiason.
Lenten blessings to you all,
Your pastors at Our Savior's Lutheran Church
Randy Gehring,
Tim Lemme,
Justin Kosec,
Shelly Gehring
Click below to read Pr. Randy Gehring's Devotional for Anxious Days for February 3, 2021.