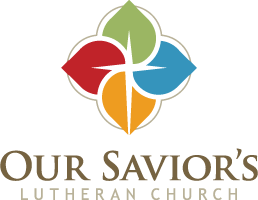 Our Savior's is a people forgiven in Christ whose mission is to proclaim Christ and nurture faith that connects with everyday life. Learn more here.
Everyone experiences challenges in life—times when we could benefit from the support of a caring Christian friend. Stephen Ministers are ready to provide that support by offering one-to-one Christian care to people experiencing a wide range of life's challenges.
Our Savior's has been a Stephen Ministry congregation since 1988, offering support to almost 600 people in need of a listening friend. More than 350 lay volunteers have gone through the 50 hours of in-class Stephen Ministry training in that time, and more than 300 of them have been commissioned as Stephen Ministers. Stephen Ministry continues to be a vital part of OSL's Spiritual Care program.
Stephen Ministers have regularly scheduled meetings with their care-receivers, praying with and for them, listening to their concerns, and offering them the support and encouragement they need in difficult times.
Are you going through a difficult time and would like a caring friend?
Do you know someone who is experiencing a challenging circumstance and would like to learn more about OSL's caring resources?
Would you like to consider becoming a member of OSL's Stephen Ministry Team?
If you answered
yes
to any of these questions, then we encourage you to contact us! We will confidentially listen to you, answer your questions, and provide support as needed.
Pr. Tim Lemme
tlemme@oslchurch.com
605-336-2942, ext. 19
Ben Weins, Spiritual Care Coordinator
bweins@oslchurch.com
605-336-2942, ext. 28
See what a difference Stephen Ministry can make in your life!
Recently, OSL member Jim Green spoke about how the trained, compassionate care of a Stephen Minister has helped him through a difficult period in his life: